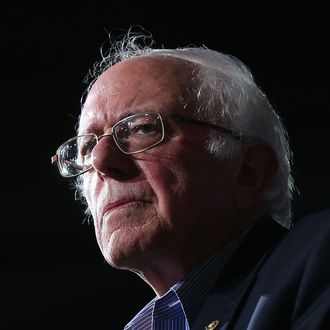 Feeling the bern…ing dislike for Trump.
Photo: Spencer Platt/2016 Getty Images
Presidential candidates from both sides of the aisle were quick to denounce the escalating unrest at Trump rallies in recent days, with fellow Republicans John Kasich and Marco Rubio calling his tone "toxic" and "not excusable." Naturally, the condemnation from the left has been even more forceful, particularly after Trump blamed Hillary Clinton and Bernie Sanders supporters for disrupting his Friday night rally in Chicago.
Trump even threatened Sanders (though he denies it):
Sanders pushed back, insisting that his campaign had nothing to do with the Chicago protests, and saying in a statement on Saturday, "As is the case virtually every day, Donald Trump is showing the American people that he is a pathological liar."
Sanders repeated the attack during a CNN town hall at Ohio State University on Sunday night. "I hesitate to say this because I really don't like to disparage public officials, but Donald Trump is a pathological liar," Sanders told Jake Tapper.
He went on to deny that his campaign ever encouraged people to disrupt events, and noted that Trump has said he's looking into paying the legal fees of the man accused of assaulting a black protester at one of his rallies. "What that means is that Donald Trump is literally inciting violence with his supporters. He is saying if you go out and beat somebody up, that's okay, I'll pay the legal fees. That is an outrage and I would hope that Mr. Trump tones it down big time and tells his supporters that violence is not acceptable in the American political process."
Taking the stage after the Vermont senator, Clinton expressed a similar sentiment. "It is clear that Donald Trump is running a very cynical campaign pitting groups of Americans against one another. He is trafficking in hate and fear," she said. "He actually incites violence in the way he urges his audience on, talking about punching people, offering to pay legal bills." Clinton added that Trump has been "applauding" violence for months, and it's essentially "political arson." "He has lit the fire, then he throws his hands up and claims he shouldn't be held responsible. He should be held 
responsible," she said.
So, what's a Trump-fearing American to do? Don't worry, both Sanders and Clinton plan to kick his butt in the general election (metaphorically, of course).