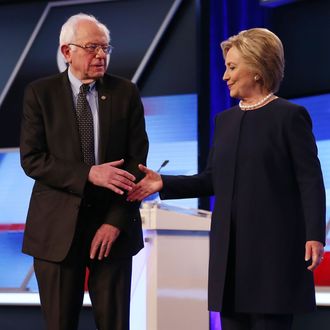 New York Democrats actually have to pay attention this time.
Photo: Joe Raedle/Getty Images
Presidential primaries in New York have been relatively uneventful for decades, but with Bernie Sanders fighting to catch up to Hillary Clinton, that's going to change this year. After Sanders swept the caucuses in Washington, Alaska, and Hawaii this weekend, Clinton's lead is down to about 230 pledged delegates. Next week, the Democrats will hold a primary in Wisconsin and a caucus in Wyoming, but the next big prize is New York on April 19, where 247 delegates will be awarded in a closed primary.
Sanders's first public move in his attempt to take on Clinton in New York came on Sunday's Meet the Press, when he challenged her to yet another debate. "I would hope very much that as we go into New York state, Secretary Clinton's home state, that we will have a debate — New York City, upstate, wherever — on the important issues facing New York and in fact the country," he said. When Chuck Todd asked if he's worried that Clinton will refuse, Sanders answered, "Yeah, I do have a little bit of concern about that. But I certainly would like to see a debate in New York State."
The Democrats had previously agreed to hold a debate in April and another in May, and CBS News reports that on Sunday, Sanders campaign manager Jeff Weaver sent a letter to Clinton campaign manager Robby Mook formally requesting that the former take place in New York — and suggesting that Clinton is dragging her feet because she's afraid of holding a forum in her home state.
"It is difficult to understand your motivation," Weaver told Mook. "Can you please explain why New York should not host the April debate? Is the Secretary concerned about debating before the people who twice elected her to the U.S. Senate? Perhaps there is some tactical advantage you are seeking by avoiding a debate in New York."
Aside from boosting Sanders's delegate count, a defeat for Clinton in her adopted home state would be a humiliating blow. But New York presents a huge challenge for the Vermont senator. A recent poll had Clinton at 71 percent to his 23 percent.
Nevertheless, the Sanders team believes that if he can turn things around in Michigan, he can do the same in New York. According to the Washington Post, he plans to "barnstorm the state as if he were running for governor," and play up his Brooklyn roots. His campaign is looking into issues that could potentially resonate with New York voters, such as Clinton's Wall Street ties and failure to come out strongly against fracking, which is banned in New York.
"We'll be the underdog, but being the underdog in New York is not the worst situation in politics," Tad Devine, the Sanders campaign's chief strategist, told the paper. "We're going to make a real run for it."
So, the next few weeks should be exciting for New Yorkers — we're finally going to get some attention from the national media!