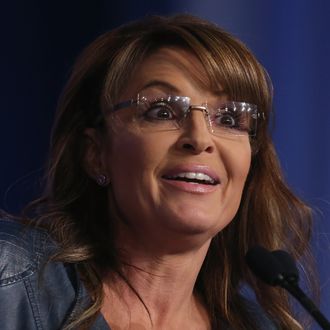 Judge Palin presides.
Photo: Mark Wilson/2014 Getty Images
Sarah Palin, whose last reality-TV show, Amazing America With Sarah Palin, was not exactly a smash hit, is getting a second chance at daytime-TV stardom. People reports that the former Alaska governor has signed a production deal with Warm Springs, a production company based in Montana, for a courtroom reality show in the vein of Judge Judy. "Palin's telegenic personality, wide appeal, and common-sense wisdom make her a natural for this kind of format," an unnamed source told the magazine. "She was Warm Springs' top pick for this project." 
Although Palin, unlike Judge Judy, does not have a Juris Doctor degree, a Warm Springs representative told USA Today that her popularity makes up for this minor drawback. "She's sold millions of books, she's a proven ratings draw, she has close to 6 million followers on social media, she has a huge audience and you can say that audience corresponds well with a daytime audience," he said. In other words, Palin's fans are exactly the sort of people one might expect to watch daytime television.
She's signed the production deal, but Palin still has to make a pilot, meet with networks, and sell the show. If that doesn't work out, she can always fall back on her blossoming freestyle-rap career.