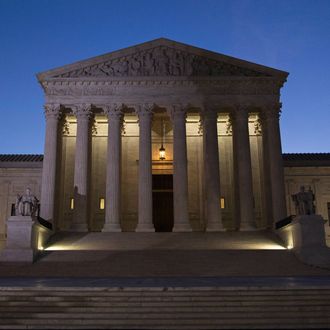 Nice digs.
Photo: Drew Angerer/Getty Images
The U.S. Supreme Court has reversed an Alabama court order that barred a lesbian woman from contacting the three kids she adopted and helped raise in Georgia while she was in a 17-year relationship.
The case is known as V.L. v. E.L., after the two moms, who are referred to by their initials in the court papers. E.L is the biological mother of the three kids, whom V.L. helped raise from their birth and adopted in 2007 in Georgia. After the couple split up in 2011, V.L. sued in Alabama state court, accusing E.L. of blocking her access to the children. Alabama refused to acknowledge the Georgia adoption as legitimate.
The Supreme Court agreed with V.L., saying that Alabama had violated the Constitution's "full faith and credit" clause requiring states to recognize each other's judgments. (That's the one establishing that if you're married or issued a driver's license in one state, all 50 have to accept it.) The Alabama court had claimed that Georgia had misapplied its own adoption laws and thus the constitutional clause need not apply; the Supreme Court responded with a "summary reversal," meaning that it did not hear arguments but rejected the argument on its face. The Court said, in an unsigned opinion, that "the Alabama Supreme Court erred in refusing to grant that judgment full faith and credit."