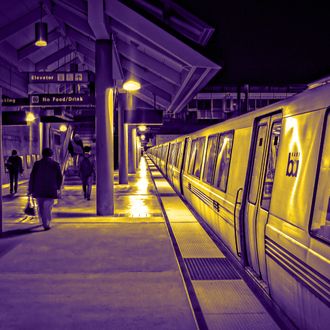 As humans, we spend every waking moment contemplating our death. Death is, after all, the great uniter. Some of us will go to heaven, some of us will go to hell, a select few souls will linger forever in Purgatory, where time has no beginning and no end.
As we await our inevitable return to the earth from whence we came, so does San Francisco's Bay Area Rapid Transit, which got very dark on Twitter last night. Running the BART's Twitter account has become a thankless role in recent years, as the city's explosive tech boom has pushed the public transit rail system to capacity.
BART calmly (stoically?) explained that, among other issues, the system needs to replace 90 miles of rail. They also said that publicly funding BART is a far more complex issue than funding, say, Shmorplr, which is Uber for hyperlocal dog Groupons. Still, the agency did share that they were working on large-scale overhauls for the system.
In case this entire thread has been bumming you out, the department did clarify that they were not resigned to their fate, telling one rider, "No despair! We are moving forward and finding ways to fund our future needs."
What this mainly boils down to is that Twitter, while great for light chatter, is maybe not the best platform for robust civic engagement.