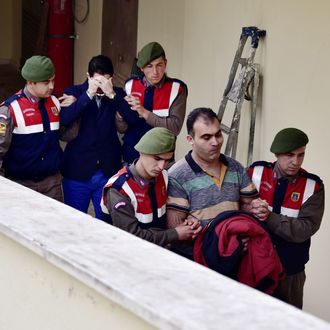 Turkish gendarmeries escort two Syrians, arrested on suspicion of causing deaths of five refugees, including Aylan Kurdi.
Photo: Ali Balli/Anadolu Agency/Getty Images
A tiny child, facedown on the sand, waves slipping over his body. That image of Alan Kurdi, a 3-year-old whose body washed up on a beach in Turkey after his boat filled with refugees capsized in the Aegean Sea, captured the world's failure to respond to the spiraling migrant crisis. Now two men who tried to help smuggle Kurdi and other refugees in a boat from Turkey to Greece face more than four years in prison for the dangerous crossing that led to the toddler's death.
Two Syrians, Muwafaka Alabash and Asem Alfrhad, were found guilty in Turkey of human trafficking, in a trial that lasted a little less than a month. Prosecutors had sought to convict the men both for smuggling and for deliberate negligence in the death of the Kurdi, his 5-year-old brother, his mother, and two other refugees. The court acquitted them of the more serious charge of deliberate negligence, saying there wasn't enough evidence. Alabash and Alfrhad originally faced a sentence of up to 35 years in prison. Each received five years in prison, though the court has now reduced that punishment for a few months' good behavior, reports the Times. 
The accused smugglers have a right to appeal, and they seem likely to do so. Alabash and Alfrhad claim they were only middlemen and didn't run the trafficking ring. Instead, the men have lobbed accusations at the dead toddler's father, Abdullah Kurdi, claiming he was responsible for organizing the trip. Kurdi has denied those charges.
The conviction came down just as European and Turkish leaders plan to meet for a summit Monday to try to, once again, figure out some way to stem the exodus of refugees to Europe. European leaders have already pledged $3 billion to Turkey to help the country accommodate refugees and crack down on smuggling operations like the one that killed Kurdi and more than 3,700 last year. But, with more than 134,000 migrant arrivals so far in 2016 (and a little more than 400 deaths), the count could match — or outpace — the 1 million people who reached Europe in 2015.