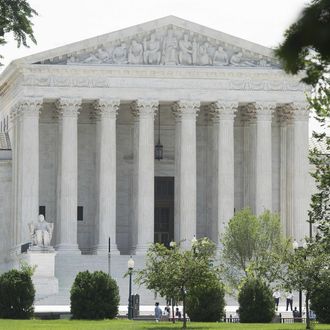 The U.S. Supreme Court in Washington, D.C.
Photo: Jim Watson/AFP/Getty Images
Apple's long-running lawsuit over e-book price-fixing has come to a close. In dismissing Apple's final appeal, the Supreme Court has upheld that the company must pay $450 million in penalties — $400 million to consumers, $20 million to states, and $30 million for legal fees.
The lawsuit surrounded the introduction of Apple's e-book store in 2010, when it began to attempt to compete with incumbent Amazon. A federal judge, according to Bloomberg, "found that Apple persuaded five of the biggest publishers to shift to a system under which they, and not the retailers, would set book prices. The shift led to a 40 percent increase in the price of e-book best-sellers."
Apple argues that their entry into the market, and the increase in competition, has caused e-book prices to fall in subsequent years.