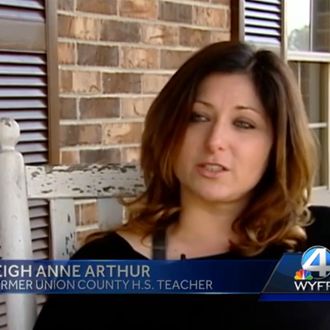 Who is at fault if someone steals a phone and distributes the material on it: the phone's owner or the thief? The answer would seem pretty obvious to everyone but administrators at a South Carolina high school, where teacher Leigh Anne Arthur was forced to resign after a student grabbed her phone and sent the nude photos on it to classmates.
From Reason:
The male student grabbed the phone from Union County Career and Technology Center teacher Leigh Ann Arthur's desk while she was making required hall-monitoring rounds between classes last week. After discovering the phone was unlocked, he went through Arthur's photos, eventually finding some sexually oriented shots that Arthur says she took for her husband. By the time she returned to the classroom, the student was texting the photos to other students. According to Arthur, he told her: "Your day of reckoning is coming."
According to local news reports, the student also posted some of the images on social media.
Arthur — who had taught at the school for 13 years — was given the choice of resigning or starting firing procedures. The blame was placed on her for not password-protecting her phone. "The whole premise of my privacy is being ignored," she told a local CBS affiliate.
The county's interim superintendent, David Eubanks, implied that Arthur could face legal action for contributing to the delinquency of a minor. He told The State, "I think we have a right to privacy, but when we take inappropriate information or pictures, we had best make sure it remains private."
A petition to get Arthur her job back (apparently started by students) has been circulating in the aftermath, though Arthur expressed uncertainty over whether she would return, regardless. She also said that she forgives the student who accessed her phone, attributing the incident to the "stupid decisions" of a 16-year-old.