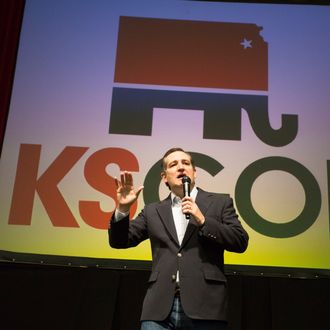 There's no place like midwestern caucus states.
Photo: J Pat Carter/Getty Images
The first win of Saturday's multi-state voting goes to Ted Cruz in the Kansas Republican caucuses. With 62 percent of results in, the Texas Senator has won a commanding 51 percent of the vote, with Donald Trump a distant second at 24 percent. So far it's looking like it might a good day for Cruz, as he is also currently beating Trump in Maine with 5 percent of results in, and he won the CPAC straw poll today as well. Notes FiveThirtyEight's Nate Silver:
[I]t's not that Cruz beat Trump in Kansas that's a shock. It's the margin that's shocking: 27 percentage points (!) as I type this. Plus, Cruz possibly winning Maine, which would be a surprise by any margin. There's the risk of reading too much into all of this this, but there's the risk of reading too LITTLE into it also. We'll know more after we see the results in Kentucky and Louisiana.