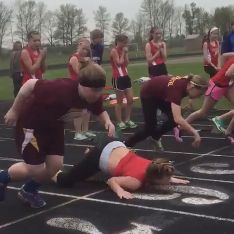 There are many finish lines in life. There's the track-meet kind — the kind Makenna Kroge only barely made it to last year — and then there are other kinds. Maybe better kinds.
"This sounds kind of dumb," Kroge's friend Lexi Cornelius told me when we talked on the phone early today, "but now I really want to go on Ellen." Now, that's a finish line. That's what Daniel Lara and Josh Holz got after "Damn, Daniel" infected the internet a few weeks ago. And now that Lexi's tweet — a video of Makenna eating shit, twice, during an 8th grade track meet last year — has over 13,000 retweets, it could be in Lexi and Makenna's future.
Kroge ("almost 15") and Cornelius ("almost 16") were together when I reached them by phone this afternoon, but they didn't even know each other last year, when Kroge's mom caught her daughter in this bottom-of-your-soul relatable video:
Kroge explained: "I don't really know, I was super nervous. A bunch of girls that didn't like me were there so I was going to impress them." She and Cornelius dissolved into giggles. "After I fell, at the end, when I am looking back," Kroge continued, "you can hear my dad and he's screaming at me to run." Kroge finished the race, but came in last.
Kroge and Cornelius recently met and became friends, and, taking part in the classic ritual of admitting your humiliations to your good friends, Kroge showed Cornelius (who goes to another high school in the same town of Green Bay, Wisc.) the video. And Cornelius, taking part in the classic ritual of publicizing your friends' humiliations, immediately asked Kroge if she could tweet it.
"I honestly thought it would get one retweet and ten favorites," Cornelius admitted. She sent the tweet out Saturday afternoon, and says she thought it started gaining traction after a "football player retweeted it." (She couldn't remember which one.) ESPN soon followed suit. The girls hope Ellen DeGeneres isn't trailing too far behind. They both said they had to shut down their Twitter notifications overnight: "It was getting too crazy," Kroge said. "I had a lot of notifications coming in," Cornelius added.
Kroge said she's not embarrassed by her face-plant since the video was taken so long ago — and, you know, virality can mend many wounds. At one point I wished them luck and told them I thought the video was even funnier than "Damn, Daniel." Cornelius gasped. "Can you say that again, what you just said? We want to record it." And so I did, and the girls once again dissolved into high-pitched giggles.