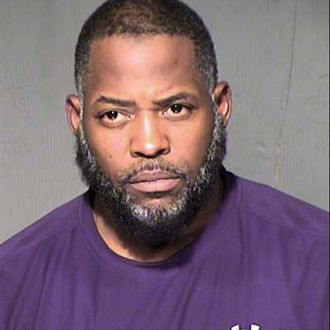 Abdul Malik Abdul Kareem.
Photo: Maricopa County Sherriffs Department
Abdul Malik Abdul Kareem was found guilty on Thursday of charges that he planned and helped carry out the attack on a community center in Garland, Texas, that was housing an exhibit of caricatures of the Prophet Muhammad. On May 3, 2015, Elton Simpson and Nadir Soofi shot up the Curtis Culwell Center during their anti-Islam exhibition of cartoons. Kareem was not with the two men, but a jury decided, after listening to the testimony of his friends and neighbors, that he did arm and train the shooters.
One of Kareem's neighbors said that Kareem had wanted to blow himself up in a mall; his former roommate said that he had asked where he could buy enough explosives to blow up Levi's Stadium before Super Bowl 50 last year. That plan, obviously, never came together, so he settled on taking co-conspirators Simpson and Soofi to target-shoot in the desert outside Phoenix and supplying them with guns. He was "the motivator, he was the bankroller, he was the trainer and an intended participant," said Assistant United States Attorney Joseph E. Koehler. Kareem had been charged with conspiracy, making a false statement, and transporting firearms over state lines with intent to commit a felony.
Kareem's lawyer said that the prosecution really "messed up," declaring that the verdict was "about the government deciding they need to find somebody else." Kareem will be sentenced on June 27. The two shooters were killed during the attack.