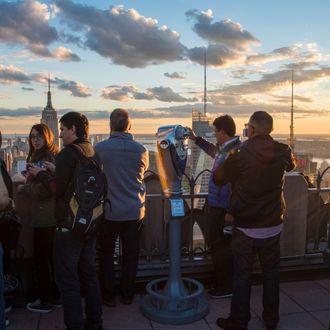 Rockefeller Center, at sunset.
Photo: Roberto Machado Noa/LightRocket via Getty Images
This won't come as a surprise to anyone who had to navigate through midtown around Christmas, but New York had a record 58.3 million visitors in 2015, according to NYC & Company, the city's tourism marketing agency. Last year was the sixth straight year in which the city broke its tourism record, and the totals — 46 million domestic visitors and 12.3 international ones — were both all-time highs. The numbers are expected to rise even further this year: NYC & Company forecasts that 59.7 million people will visit New York in 2016, a 2.4 percent increase that keeps the city on pace to reach its goal of 67 million visitors by 2021.
Tourism has been so strong that the city has had to readjust its targets. Mike Bloomberg once announced a goal of attracting 50 million visitors by 2015 — a figure the city hit four years early. Mayor de Blasio announced a new goal of upping that number by another 10 million by 2021.
An increasing number of them come from China. NYC & Company projects the city will have 920,000 Chinese visitors this year, an increase of 8.2 percent over the preliminary estimate of about 850,000 from last year. It's the fourth-largest source of foreign visitors to the city, after England, Canada, and Brazil.
Alicia Glen, the deputy mayor for economic development, tells the Times that tourism officials are trying to persuade more visitors to check out places outside of Manhattan. Says Glen, "You're sort of a loser if you come to New York and just go to Times Square." Also, if you walk very slowly, five abreast, in front of us on the sidewalk, because WE HAVE PLACES TO BE, PEOPLE, C'MON.