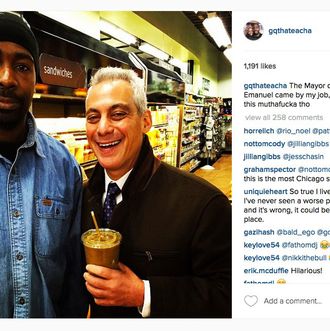 Caption: "The Mayor of Chicago Rahm Emanuel came by my job, still can't stand this muthafucka tho."
Chicago can't stand its mayor. In January, Rahm Emanuel's approval rating fell to a record-low 27 percent. Four in ten Chicagoans would like to see Emaunel resign. Even before the controversy surrounding the police killing of Laquan McDonald, Rahm had earned the ire of the city's large activist community as a result of a series of school closings early in his tenure. Emanuel ultimately won reelection last year, but not before weathering a serious primary challenge from Cook County Board commissioner Chuy Garcia. And that was before video of Chicago police shooting an unarmed 17-year-old 16 times in 13 seconds became public — more than a year after the killing occurred. The anger over McDonald's death, and the government's belated response, is fueling a grassroots campaign to oust State's Attorney Anita Alvarez in tonight's primary.
He's also a Hillary Clinton backer, and came on the national political scene as a senior adviser in her husband's White House.
Bernie Sanders has done everything he can to harness those anti-Emanuel energies to undermine Clinton's standing with Illinois Democrats. He picked up Chuy Garcia's endorsement early in his campaign, and he's been flooding Chicago's airwaves with ads linking Emanuel to Clinton for over a week.
If the Democratic front-runner loses Illinois tonight, these images will go a long way toward explaining why.