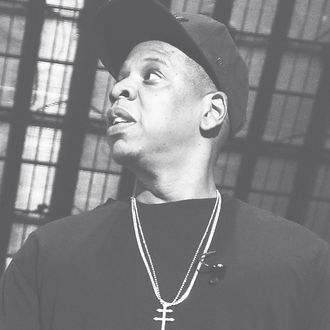 Photo: Taylor Hill/FilmMagic
In his verse on "Diamonds From Sierra Leone," Jay Z raps, "I'm not a businessman, I'm a business, man!" This week, it appears that at least the first half of that statement is true. According to Bloomberg, the rapper is claiming that the company that sold him streaming service Tidal inflated subscriber numbers.
In an emailed statement, the company said that it had been duped by Norwegian media company Schibsted ASA. "It became clear after taking control of Tidal and conducting our own audit that the total number of subscribers was actually well below the 540,000 reported to us by the prior owners," they wrote.
Tidal, which has no free streaming tier, has struggled since its inception to attract subscribers. Its initial pitch — a fairer business model to benefit artists — was agreeable enough, but when the faces of the streaming service are A-list multimillionaires, the call to support artists rings a little flat. Executive leadership has also been a revolving door.
The service has, however, received a substantial uptick in subscribers — more than three million now — since Kanye West's most recent album, The Life of Pablo, launched on the service exclusively. Likewise, Beyoncé's latest single, "Formation," is Tidal-only.
Schibsted, for its part, denies that they cooked the books, saying that Jay Z's company performed due diligence before the sale was finalized.