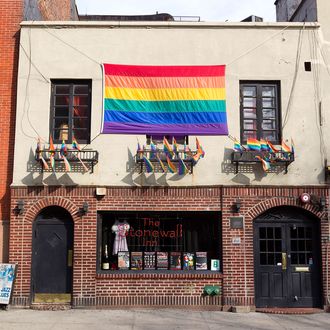 The Stonewall Inn.
Photo: Ben Hider/Getty Images
If this can happen at the Stonewall Inn, it can happen anywhere: A transgender woman, drinking at the Stonewall on Saturday night, says she was sexually assaulted in the bathroom after a man crept up behind her as she was washing her hands. The alleged attacker's image was caught on a surveillance camera, and he's apparently known to Stonewall staff, who are working with police to find him. The victim was taken to Lenox Health Greenwich Village nearby for treatment.
The Stonewall Inn became a New York City landmark in June. On June 28, 1969, a police raid at the bar led to protests that are generally held to be the beginning of the modern gay-rights movement.