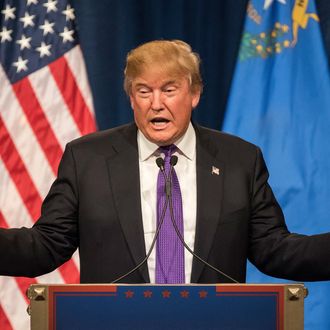 Donald Trump.
Photo: David Paul Morris/Bloomberg via Getty Images
Following an especially blustering debate performance, Republican front-runner Donald Trump backed out of two commitments on Friday afternoon.
The first (and, to the majority of the world, less important) one was his speech at this weekend's Conservative Political Action Conference. As a statement released by the campaign explained, "The Donald J. Trump for President Campaign has just announced it will be in Witchita, Kanasas [sic] for a major rally on Saturday prior to Caucus. He will also be speaking at the Kansas Caucus and then departing for Orlando, Florida and a crowd of approximately 20,000 people or more. Because of this, he will not be able to speak at CPAC as he has done for many consecutive years." And yes, they misspelled both "Wichita" and "Kansas."
Also left disappointed today were Trump's most bloodthirsty supporters. In a statement to The Wall Street Journal, Trump reneged on his repeated promise commit war crimes such as torturing suspected terrorists and murdering their families. (For what it's worth, former CIA director Michael Hayden has said that the American military wouldn't necessarily carry out Trump's orders, as they would be illegal.) From the Journal:
Mr. Trump … said he would "use every legal power that I have to stop these terrorist enemies. I do, however, understand that the United States is bound by laws and treaties and I will not order our military or other officials to violate those laws and will seek their advice on such matters. I will not order a military officer to disobey the law. It is clear that as president I will be bound by laws just like all Americans and I will meet those responsibilities."
Very presidential!