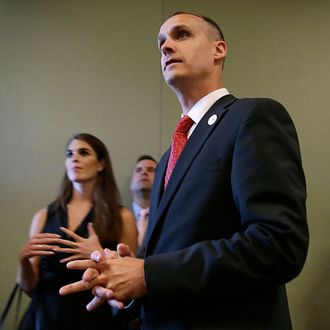 Photo: Charlie Neibergall/AP
Donald Trump's campaign is nothing if not unorthodox.
Tuesday night, according to several witnesses, Donald Trump campaign manager Corey Lewandowski roughly grabbed Breitbart reporter Michelle Fields and wrestled her backward after she tried to ask Trump a question. When news of this broke, he responded in a manner that screamed "utterly bizarre, off-the-rails 2016 primaries." Whereas the manager of a less bold, forward-thinking campaign might utter predictable, politically correct, subservient-sounding lines in the wake of such a misstep — "I apologize," "I resign my position immediately," and so on — Lewandowski has taken a different, far more Trumpian tack.
First, according to the Daily Beast, Lewandowski explained to Fields's boss Matthew Boyle that he had only grabbed her up because he "didn't recognize her as a Breitbart reporter, instead mistaking her for an adversarial member of the mainstream media" (makes sense). Now he appears to have entered Phase II of his innovative plan to justify roughing up a female journalist: attempt to discredit her. And, naturally, he's doing so on that favorite platform of victim-blamers, Twitter:
At this point, it wouldn't be surprising if Lewandowski demanded that Fields apologize to him by the end of the day.