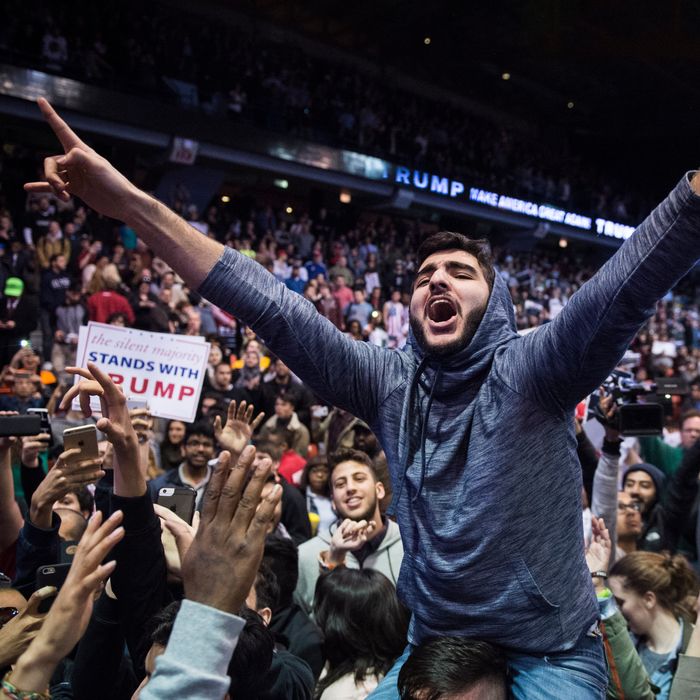 An anti-Trump protester inside the arena in Chicago on Friday night.
Photo: Jabin Botsford/The Washington Post via Getty Images
Citing safety concerns, Donald Trump postponed a rally in Chicago on Friday night as a tense standoff played out between his supporters and thousands of anti-Trump protesters who had arrived both inside and outside the Chicago Pavilion at University of Illinois in an attempt to disrupt the event. Multiple clashes ensued, and according to the Associated Press, there were ultimately several isolated physical confrontations among the crowd resulting in a total of five arrests over the course of the night. Though the candidate never arrived at the arena himself, an announcement was made a half hour after he was scheduled to take the stage saying that "Mr. Trump just arrived in Chicago and after meeting with law enforcement has determined that for the safety of all of the tens of thousands of people that have gathered in and around the arena, tonight's rally will be postponed to another date."
According to the Washington Post, Chicago Police later told reporters that they "had no role, we were not consulted or provided an opinion" about the event's cancellation. After the announcement was made, a few brief scuffles broke out inside the arena between protesters and Trump supporters, footage of which has since been heavily circulated both on television and online:
The clashes and postponement are the latest (and most dramatic) incident amid an intensifying trend of violence at the Republican front-runner's rallies over the past few weeks, a trend that Trump's rivals and critics link to the candidate's divisive rhetoric and often explicit calls for violence against protesters. Earlier on Friday, 32 people were arrested after protesting at a Trump rally in St. Louis, and as one was taken away during the event, Trump suggested that the treatment of protesters wasn't violent enough, noting that "part of the problem and part of the reason it takes so long [to kick protesters out] is nobody wants to hurt each other anymore." Trump had also praised a supporter who was arrested after assaulting a protester as that protester was being escorted out of a rally in North Carolina earlier in the week. Trump has repeatedly denied, when pressed in interviews, that he or his supporters are to blame for the violence, insisting that it has the been the protesters who have started the various altercations.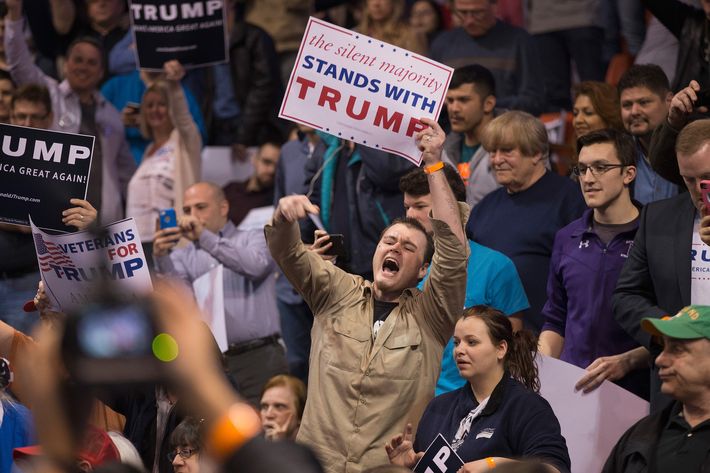 While groups of protesters have regularly targeted Trump events in the past, Friday night marked what was surely the most organized attempt yet to disrupt a Trump rally, as protesters, both young and diverse, arrived by the thousands and made their presence felt both in and outside the arena, often to the bewilderment of mostly white, mostly older Trump supporters. While some skirmishes occurred inside the arena, the Guardian also points to additional violence outside as protesters clashed with police and at one point amassed by the parking garage adjacent to the arena in an attempt to prevent Trump supporters' cars from leaving:
A spontaneous blockade of a parking garage formed, creating a standoff between screaming Trump supporters in the multi-level lot and screaming protesters on the ground below.

From high up Trump supporters reportedly spat down on protesters who were chanting "Fuck Donald Trump" and preventing anyone leaving. Eventually, after police cleared a path for people to depart, protesters jeered and gestured at each car and its occupants making their way past barricades and a long column of mounted police.
Trump and his surrogates have since insisted Trump and his supporters' First Amendment rights were violated:
Calling in to discuss the night's events on CNN, Trump blamed general divisiveness in the country as well as economic pressures, and suggested that high unemployment among African-Americans had contributed to the behavior of the protesters. (Reports indicate that many of the protesters were African-American and Muslim students, but photos and videos of the anti-Trump crowds indicate they were many Latino and Caucasian protesters involved as well.)
Said one Trump supporter to the AP, "I hear all this free speech crap, but they want to shut down free speech for us." Another, who said he and his 9-year-old daughter were cursed at by protesters as they exited the event, commented that "They scream about tolerance, but are being intolerant themselves. That doesn't make sense." On the other side, protesters seemed to be ecstatic about the result of their efforts, chanting "We stopped Trump!" as news of the postponement spread. As one participant told the New York Times, "[the protesters] got the job done. Someone has to object to this hatred. The people inside have a right to be there. But we have a right to be here, too." Meanwhile another protester gloated to the Guardian, "If [Trump] can't even handle Chicago, what makes him think he could handle ISIS?"
Prior to the event, many in the University of Illinois community had also tried to prevent the event from happening in the first place, insisting that Trump's views were incompatible with the school's values and worrying that hate-group members might be among the pro-Trump crowd. The Times reports that about 10,000 people had signed up on Facebook to attend an anti-Trump march, and some faculty members had penned a letter to school administrators asking them to distance the school from Trump.
There were also signs that Bernie Sanders supporters made up a large contingent of the protesters:
Trump made the Sanders connection himself when speaking with supporters on Saturday, a connection Sanders himself later rejected, saying in a statement that, "As is the case virtually every day, Donald Trump is showing the American people that he is a pathological liar. Obviously, while I appreciate that we had supporters at Trump's rally in Chicago, our campaign did not organize the protests."
Elsewhere on Friday night, Trump's GOP rivals were quick to link to violence to the candidate himself. Ted Cruz blamed the culture of Trump's campaign at a press conference following the events in Chicago:
Speaking with Fox News on Friday night, Marco Rubio cited a similar logic, noting that Trump "has in the past used some pretty rough language and encouraging the crowd, saying things like, 'In the good old days we used to beat these people up,' or 'I'll pay your legal bills if you rough 'em up.' So I think he bears some responsibility for the general tone of the things that are happening."
John Kasich added in a statement Friday that "Tonight the seeds of division that Donald Trump has been sowing this whole campaign finally bore fruit, and it was ugly."