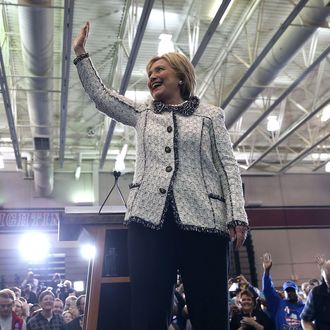 Photo: Justin Sullivan/Getty Images
The Western Tuesday primaries got off to a predictable start, with several outlets projecting that Donald Trump and Hillary Clinton would win in Arizona. With 75 percent of precincts reporting in the Republican race, Trump has 47 percent, followed by Cruz at 25 percent, and Kasich at 10 percent. On the Democratic side, Clinton has 58 percent to Sanders's 40 percent.
While Trump's win does not come as a surprise, it still gives the front-runner a boost. Arizona is winner-take-all, so Trump scores another 58 delegates.
And Kasich's loss is actually even sadder than it appears in most vote tallies:
According to FiveThirtyEight, if Clinton's lead holds, she should gain about 17 delegates over Sanders on Tuesday.
In her victory speech, Clinton looked ahead to the general election, as she's been doing more and more in recent weeks. "What Donald Trump, Ted Cruz and others are suggesting is not only wrong, it's dangerous," she said, referring to their response to the Brussels terror attacks. She also said voters need to remain positive, thought it's hard when "we see people running to be president of the United State who are literally inciting bigotry and violence."
Sanders supporters were unenthused by the initial results, but the Vermont senator fared better in Idaho and Utah later in the night.
This post has been updated throughout.