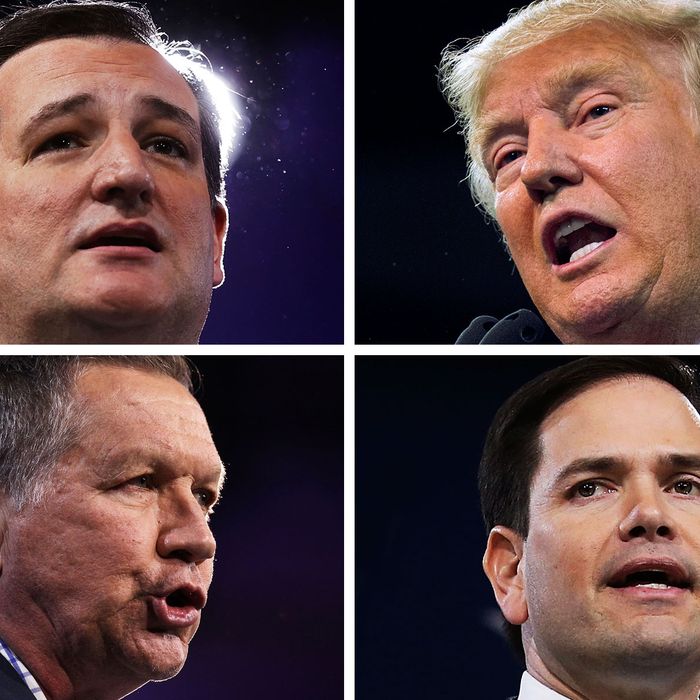 Tomorrow's primaries are an appetizer for March 15, but could be bitter for Marco Rubio.
Photo: Getty Images
Most observers closely watching the GOP presidential nominating fight mentally leaped from the March 1 Super Tuesday extravaganza to the potentially decisive winner-take-all primaries in Florida and Ohio on March 15. But there are four events tomorrow that, if nothing else, could set the table for what happens a week later. 
Donald Trump currently leads the most recent polls in the three primary states for March 8: Michigan, Mississippi, and Idaho. Both Ted Cruz and John Kasich seem to be moving up in Michigan, with Marco Rubio steadily slipping into a poor fourth place. Ted Cruz would appear to have a shot in Mississippi and Idaho, particularly if Trump has suffered some long-term damage from the pounding he's been taking from every direction of late. Hawaii is a bit of a mystery caucus with a very small GOP and no public polling, though Cruz has gotten a couple of notable local endorsements (including one from the only Republican in the state Senate).
The stakes for the various candidates in Tuesday's contests are clear enough. As on Super Tuesday and over this last weekend, Trump and Cruz are jockeying for top billing and the largest delegate haul. Kasich needs a strong — perhaps second-place — finish in Michigan as a springboard to the winner-take-all primary next week in his home state of Ohio, which in turn will determine whether he can continue his campaign. 
Marco Rubio, who is 100 percent focused on avoiding a calamitous loss in his own home-state primary next week, would likely prefer that tomorrow's results are wiped out by some overriding news story. He's unlikely to finish higher than third anywhere, and is in danger of falling short of the 15 percent minimum thresholds for delegates in Michigan, Mississippi, and Idaho. Since Hawaii has no threshold, he might snag a delegate or two in the wee hours of the morning, but that's not much of a consolation. Since Trump losing is a condition precedent to an ultimate triumph by any Establishment-backed candidate, that's where the rooting interests of Team Rubio will lie.