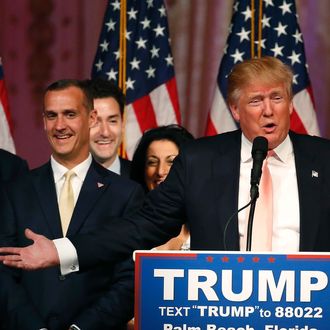 Heck of a job, Corey.
Photo: RHONA WISE
After winning Florida, Illinois, and North Carolina on Tuesday night, Donald Trump is extremely confident that he'll secure the GOP nomination. We know this mainly because Trump constantly tells us that he's extremely confident, but also because he used his victory speech to underscore his disdain for the press, and his lack of concern about allegations of sexism. Compared to other Trump speeches, the front-runner's remarks at Mar-a-Lago were repetitive and disappointingly meat-free, but the real action was taking place just off his right shoulder. Rather than showcasing Chris Christie's look of horror, Trump signaled his support for campaign manager Corey Lewandowski by having him stand by his side. 
After Lewandowski was accused of assaulting former Breitbart.com reporter Michelle Fields last week, Politico's Ben Schreckinger reported on Monday that he has a history of mistreating female co-workers. (Schreckinger was then denied access to Trump's victory speech.) While campaign staffers have been fired for far less, Trump has repeatedly defended Lewandowski, who denies the allegations. He even got a shout-out during the speech:

Trump closed by saying, "There nothing like it — lies, deceit, viciousness, disgusting reporters." Lewandowski laughed and clapped as Trump gestured toward the "really disgusting people" in the press area. Then he left the stage, though he'd promised to take questions from reporters.
To be fair, Hillary Clinton wasn't kind to the media either on Tuesday night. She seriously offended a handful of commentators by raising her voice and refusing to show them her pretty smile.