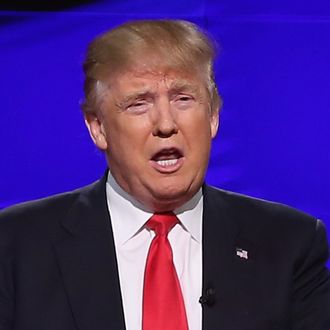 Sometimes it's hard to translate Trump's statements out of mogul-ese.
Photo: Joe Raedle/Getty Images
Upon learning that second-place finisher Ted Cruz may have the support of ten additional Louisiana delegates, Donald Trump threatened to sue, because that is how classy businessmen handle life's problems. The state's GOP party leader said he was confused by Trump's threat since, under rules set before Trump announced his candidacy, the ten delegates — including five unbound delegates and five delegates no longer obligated to vote for Marco Rubio — are free to cast their ballot for whomever they choose.
On Monday, the Trump campaign acknowledged that by "lawsuit" the candidate actually meant "file a formal complaint with the Republican National Committee," though that sounds much dorkier. "It's not something you file with the court, it's something you file inside the party," Trump adviser Barry Bennett told MSNBC. "That is the lawsuit that he talked about." He added that after consulting with their legal team, they're "moving forward with a complaint to decertify these delegates."
Aside from winding up with ten fewer delegates than Cruz, the Trump team is upset that of the six Louisiana delegates selected to sit on powerful party rules committees at the convention, five are pro-Cruz. "The problem we're having here is that there was a secret meeting in Louisiana of the convention delegation, and apparently all of the invitations for our delegates must have gotten lost in the mail," Bennett said, according to the Washington Post.
Louisiana GOP officials say the "secret meeting" was actually the official state convention, and both of Trump's state chairmen were in attendance. Bennett later admitted that's correct, but told CBS News that the Trump campaign wasn't properly notified and their representatives were only present because Bennett caught wind of the meeting.
None of the ten delegates have actually declared that they're backing Cruz, but that didn't stop Trump from repeatedly accusing the Texas senator of trying to "steal" delegates in interviews on Sunday. During a Monday radio interview in Wisconsin, Trump claimed he never used the word "stealing," and was merely pointing out that the GOP's delegate-allotment system makes no sense.
"I'm saying this: I won the state of Louisiana. I won it. Okay?" Trump said. "Okay, if I won it, how come I end up with less delegates? I'm just saying the system is bad. I'm not saying stealing because I know they have a, you know, they have a very strange system."
If the Trump team actually files a complaint, it will be considered by an RNC panel in the weeks before the convention in July. Stay tuned to find out whether they agree that Trump should be awarded more Louisiana delegates because he thinks the state's completely legal method of doling out delegates is confusing and dumb.