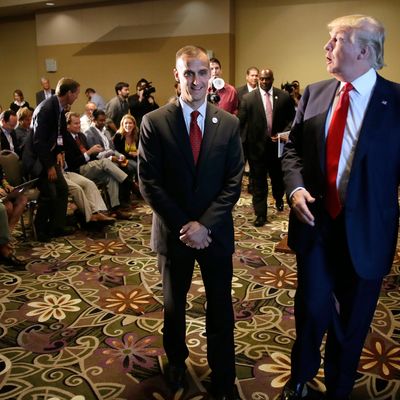 Lewandowski and Trump.
Photo: Charlie Neibergall
While the political world was stunned this morning that Donald Trump's campaign manager was charged with battery for grabbing a female Breitbart reporter, Trump has known for days that Lewandowski faced the possibility of criminal charges.
During a dinner at Mar-a-Lago last Thursday, Trump told Paul Manafort, the campaign's new delegate strategist, that "Corey has his own problems. I got him a lawyer." It's unclear if Trump is paying Lewandowski's legal bills, as he suggested he might for a white supporter who punched a black protester in the face. Whatever the case, Lewandowski's legal bills are likely going to be hefty. He's being represented by a pair of powerhouse Florida attorneys, Scott Richardson of West Palm Beach and Kendall Coffey of Miami.
After news of Lewandowski's arrest broke, Trump tweeted a supportive message:
Trump spokesperson Hope Hicks declined to comment. Lewandowski didn't return a call for comment.