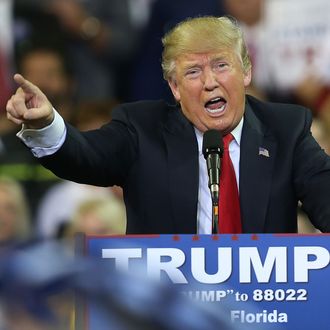 Big Brother.
Photo: Joe Raedle/Getty Images
Trigger warning: If you suffer from Trump Anxiety, consult your psychoanalyst before reading this post.
There's no shortage of reasons why President Donald Trump is a terrifying prospect, but the mogul's attitude toward dissent should be near the top of anyone's list. Granted, no politician enjoys having his or her speeches interrupted by protesters calling them fascist. But few have leaned into that accusation with as much vigor as the Donald: Trump now employs "plainclothes private intelligence officers," who are tasked with preempting the expression of anti-Trump sentiments, according to Politico:
"On Friday, two members of Trump's private security team wore street clothes to a rally in New Orleans. One of them, Eddie Deck, explained to reporters that his duties were now weighted towards intelligence work researching potential protesters and assisting uniformed security personnel under the direction of Trump's head of security."
Besides forming a ragtag spy squad, the GOP front-runner has sought to better control the atmosphere of his events by instituting a rally-opening loyalty oath and placing new restrictions on his "media pens."
From a certain angle, it may be tempting to dismiss the significance of such measures. Trump has a legitimate protester problem. He faces more disruptions per stump speech than any other candidate, so it makes sense that he'd take unique actions to counter those disrupters. And it sounds like his intelligence officers' primary spy technology is their own eyeballs; from Politico's description, they are basically bouncers. At a rally in North Carolina, one of their intelligence breakthroughs was discovering that a man in a "Fascist Trump" T-shirt did not intend that description as a compliment.
But the mogul's foray into preempting dissent is a potent reminder of how dangerous it would be to entrust a pathological narcissist with the powers of the presidency. Although many have linked Trump's rise to that of Adolf Hitler, one doesn't need to violate Godwin's Law to find an ominous analogy for a Trump presidency. That other champion of the "Silent Majority," Richard Nixon, wasn't too keen on protesters, either. And under his administration, the CIA ramped up its spying on domestic dissenters, while his "private intelligence officers" expanded the definition of subversives to include the Democratic National Committee. Trump has repeatedly requested that his crowds punish dissent in their midst with violence, even offering to personally pay the legal fees of any supporter who "knocks the crap out of" a protester. What happens when Trump doesn't just have the power to pay legal fees, but to direct federal law enforcement? When he doesn't merely have the power to request mob violence, but to assert the state's legitimate monopoly on it?