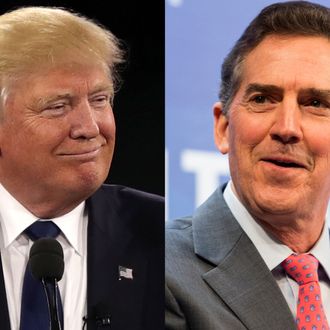 With Jim DeMint looking over his shoulder, Trump may be able to alllay the greatest conservative fear about his potential presidency.
Photo: Alex Wong/Getty Images
It sort of got lost in competing news about his efforts to seem a mite more normal now that he's almost certain to head to Cleveland in July as the leader in delegates, if not the putative nominee, but Donald Trump made a very unusual and highly significant promise aimed right at the beating heart of movement conservatism:
>
Speaking at the construction site for his new hotel in Washington, D.C., Monday, Trump said he will make a list public in the next week of 10 conservative judges that he would consider nominating to the Supreme Court. If elected, Trump said, he would only pick from that list, which is being made in consultation with the conservative Heritage Foundation.
He first made that promise over the weekend in Florida, and he seems to want to make sure it's widely heard. This means somebody is giving him good advice about how to address the concerns of conservatives about his ideological reliability. 
Of all the things they fear about a President Trump, the most urgent is that he will throw away a once-in-a-generation opportunity to reshape SCOTUS and constitutional law. And of all the temptations they have to hold their noses and support the man despite all of his heresies and erratic behavior, the most powerful would be the confident belief that at least he would position the Court to overrule Roe v. Wade, protect Citizens United, overturn Obama's executive orders, eviscerate regulation of businesses, inoculate religion-based discrimination, and maybe even introduce a new Lochner era of constitutionally enshrined property rights. This would be a legacy that might well outweigh the risks associated with a Trump presidency. 
Promising to make his SCOTUS list public right now is smart, because otherwise it's an empty promise, and involving the Heritage Foundation in developing it is key to its credibility. Not only has Heritage had a long history of vetting Republican appointees; its current president, Jim DeMint, is arguably the most reliable of "constitutional conservatives," a man who believes conservative policy prescriptions ought to be permanently protected from the occasional liberal majority via a divinely inspired and unchanging Supreme Law.