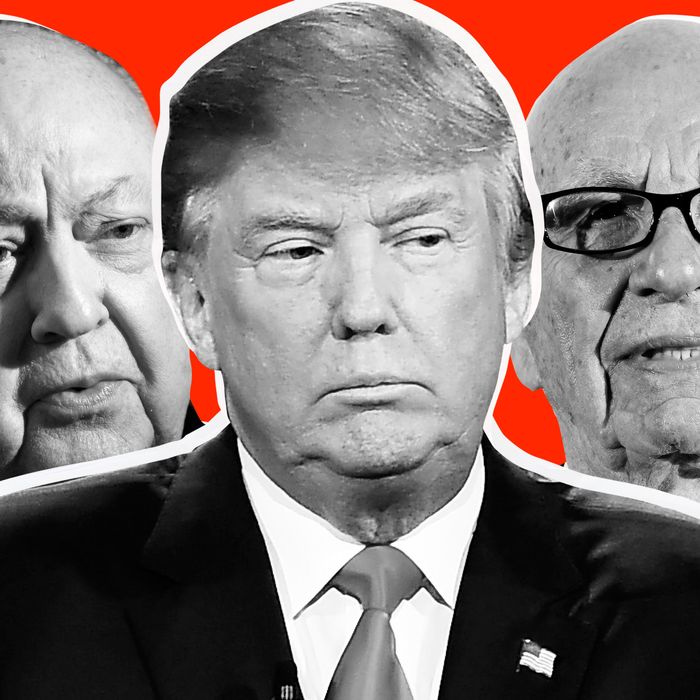 On second thought, I'll be there.
Photo: Getty Images
With polls showing Donald Trump on track to score big in Super Tuesday primaries tonight, the GOP front-runner even considered being a no-show at the Fox News debate on Thursday that will be co-moderated by Megyn Kelly. According to a highly placed source familiar with the matter, Trump's thinking was that he could send a powerful signal that he no longer considers Ted Cruz and Marco Rubio credible rivals for the nomination. Bowing out of the Fox News debate would have the added bonus of sticking it to the channel's chief, Roger Ailes, and star anchor Kelly by depriving them of the ratings. "Why give them the audience?" the source explained. The last Fox debate without Trump pulled in 12.5 million viewers, down 50 percent from the first GOP debate. 
When I called Trump spokesperson Hope Hicks last night to ask about this, she said Trump will "definitely" attend Thursday's debate. My source later explained that Trump changed his mind because he wanted to maintain the element of surprise.  
Trump's ongoing feud with Ailes and Kelly has been one of the most fascinating story lines of this campaign. If Trump walked away from another Fox debate, it would have been an unprecedented blow to Ailes's credibility as a GOP kingmaker. By feuding with Trump, Fox's reputation on the right has taken a beating this campaign cycle. A poll by YouGov last month found that Fox's perception among Republican adults fell by a staggering 50 percent since January. And this week, conservative host Sean Hannity was said to be panicked about a New York Times report that revealed Rubio secretly lobbied Ailes and Rupert Murdoch to support immigration reform. On Sunday, Ann Coulter unloaded on Hannity on Twitter saying Rubio "duped" him. 
At least one Fox on-air personality reports hearing that Trump was ready to skip the debate. "Rumor has it if he does well tomorrow he's then going to blow it off," a politics contributor told me yesterday. When told of the possibility, one of the network's hosts simply said, "Wow." 
Fox spokesperson Irena Briganti did not respond to a request for comment.