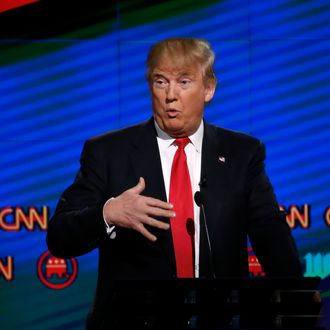 "Perhaps she made the story up."
Photo: RHONA WISE
On Tuesday, multiple witnesses reported that Breitbart reporter Michelle Fields was tackled to the ground "like a rag doll" by Donald Trump's campaign manager, Corey Lewandowski, when she tried to ask the candidate a question. Far from apologizing, Lewandowski then called Fields an "attention seeker" on Twitter and implied she made the whole incident up, and Lewandowski's fearless leader seems to be taking a similar approach. Following the millionth GOP debate Friday night, Donald Trump told reporters he didn't believe the incident had taken place at all. "I wasn't involved in it," he said. "The Secret Service was surrounding everybody, they said nothing happened, everybody said nothing happened — perhaps she made the story up. I think that's what happened."
Trump's remarks prompted a response from Fields, who published her own account of the incident on Wednesday night.
Breitbart initially shied away from condemning the incident, but its PR consultant eventually demanded an "immediate apology" from Lewandowski and called his behavior "unacceptable." So far no apology has been issued, although Trump has taken the opportunity to turn the assault into a punch line.
About an hour later Lewandowski himself chimed in, taking his original line of attack even further.
An "elegant evening" indeed.