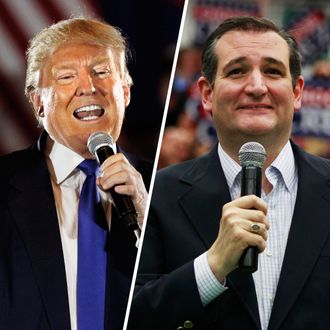 Photo: John Sommers II/Getty Images; George Frey/Getty Images
Donald Trump crossed one of the last lines of polite political discourse when he referenced his penis during a presidential debate, but now he's going back to tick off some lesser social improprieties he missed. Specifically, dragging a candidate's spouse into a political fight. In response to a sexist ad featuring his wife Melania, which did not come from Ted Cruz's campaign, Trump threatened to expose some unspecified dirt about the Texas senator's wife.
Trump actually posted and deleted a different version of the tweet, leading some to believe he'd thought better of going after Heidi Cruz. But he was actually just doing some editing. (The first version contained an insufficient number of "Lyin' Ted"s.)
Trump is understandably upset about a Facebook campaign that aims to convince Mormon voters to back Cruz, lest they wind up with a First Lady who once made her living as a professional model: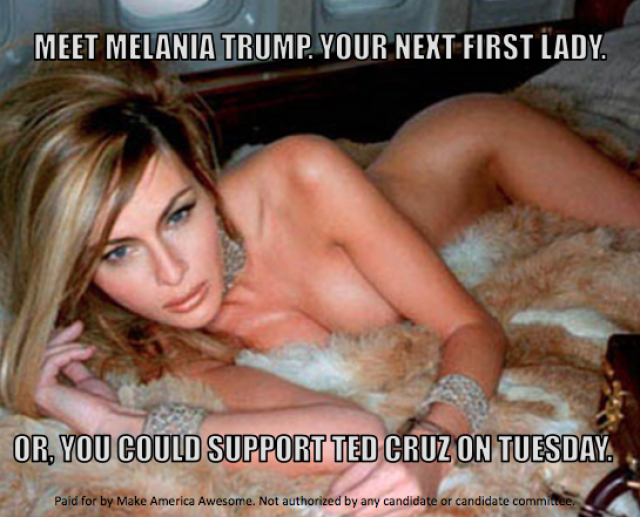 In a weird twist, the ad, which features an image of Melania published in British GQ in 2000, prompted Slate to stand with the Trump camp against slut-shaming.
But Trump's time as the most ironic of feminist causes was short-lived. Though the ad clearly says that it was paid for by Make America Awesome, an anti-Trump super-pac, and was thus "not authorized by any candidate or candidate committee," Trump still lashed out at Cruz. (Perhaps the Donald is unaware that candidates are not allowed to coordinate with super-pacs, as such money-raising ventures are for poor people.)
Cruz pointed this out in his response, which sadly does not include an inscrutable pop-culture reference:
So now U.S. presidential elections include Wiz Khalifa/Kanye West–style Twitter beefs. In which case, I'mma let you finish, Donald, but Mitt Romney had the best candidate's-wife diss of all time … of ALL TIME! (Or tonight, at least.)