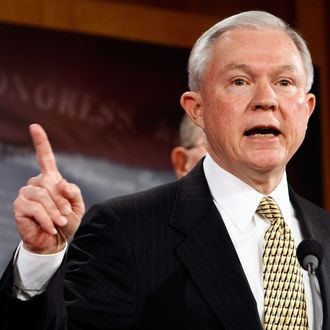 Jeff Sessions.
Photo: Win McNamee/2009 Getty Images
Republican front-runner Donald Trump has announced that Alabama senator Jeff Sessions will chair his national security advisory committee, Politico reports. Sessions, who sits on the Senate Armed Services Committee, became the first senator to endorse Trump this week, as part of the inexorable coming-around of the Republican Establishment to the fact that they will likely be fielding the unfiltered billionaire as their candidate in November. He will now advise the candidate on national-security and foreign-policy issues.
"We need to understand the limits of our ability to intervene successfully in other nations," Sessions said in a statement. "It is time for a healthy dose of foreign policy realism. In the Middle East, this means forming partnerships based on shared interests, not merely overthrowing regimes in the dangerous attempt to plant democracies."
(You know, like the one Jeff Sessions voted for in 2003.)
Sessions reiterated his backing for Trump's proposal to set up a "big beautiful safe zone" for refugees in Syria, rather than granting them refuge in the U.S. and other Western countries. In Trump's view, this will save the refugees from having to live in weather that they find disagreeable, with the added bonus of us not having to deal with them.
In November, the senator tried to persuade his Republican colleagues to shut down the government rather than letting President Obama admit 10,000 Syrian refugees into the U.S., as opposed to their usual thing of shutting down the government rather than funding Planned Parenthood.
Like Trump, he fears that radical Islamist terrorists will sneak into the country as refugees, somehow making it through the entire two-year vetting process without anyone in the Department of Homeland Security getting wise to their plot.
It's not just refugees, though; Sessions is not a huge fan of immigration in general.