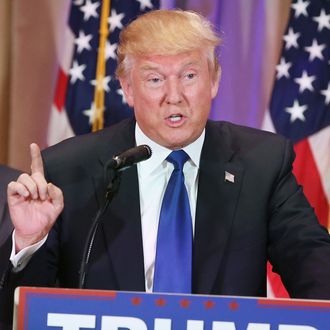 You can't spell KKK without "Jewish philanthropies."
Photo: John Moore/Getty Images
Last Sunday, Donald Trump told CNN's Jake Tapper that he hadn't done enough research on white supremacists to feel comfortable denouncing them as a group. He would later blame his reluctance on a "bad earpiece" and reiterated his disavowal of former KKK grand wizard David Duke's endorsement. But on Thursday's Morning Joe, the GOP front-runner offered an additional excuse for his failure to condemn the Ku Klux Klan at Tapper's request.
"David Duke is a bad person, who I disavowed on numerous occasions," Trump said. "And the one question that was asked of me on CNN — he's having a great time — he talked about 'groups of people.' And I don't like to disavow groups if I don't know who they are. I mean, you could have the Federation of Jewish Philanthropies in 'groups.'"
To his credit, Trump has apparently done his due diligence since the weekend and verified that there is no other KKK that serves as an umbrella group for Jewish philanthropies. Thus, the Donald was able to tell the Morning Joe crew that he does in fact disavow the Ku Klux Klan.
In Thursday morning's interview, Trump also took shots at Mitt Romney, who is set to give a speech denouncing the GOP front-runner later this morning. The Donald called the former Massachusetts governor a "stiff" and "horrible candidate."