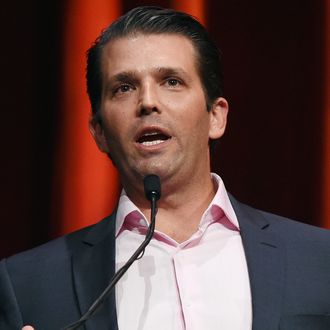 Donald Trump the Second.
Photo: Ethan Miller/Getty Images
"Political Cesspool" host James Edwards thinks that slavery was the greatest thing that ever happened to black people. He also thinks that Donald Trump is the greatest thing that ever happened to the Republican Party.
Edwards attended a Trump rally in Memphis last Saturday, as a fully credentialed member of the press. From the media pen, Edwards hosted a live broadcast of his "unapologetically pro-white" radio show, and snagged a 20-minute interview with our future president's oldest son, Donald Trump Jr., according to a blog post published Tuesday. The post was first flagged by Little Green Footballs. Past guests on "Political Cesspool" have included Ku Klux Klan leaders, Holocaust deniers, and Holocaust affirmers (a.k.a. neo-Nazis).

The Trump campaign, however, denies that any such interview took place. The campaign told The Hill that Donald Jr. was not in attendance at Saturday's rally, and did not "to his knowledge" grant Edwards an interview this past week. The campaign did not dispute the fact that Edwards was granted full press credentials, but did say that it "strongly condemns" the host's personal views.

In isolation, one could argue that the Trump campaign's only crime here is an openness to non-Establishment media. In the middle of a frenzied campaign, they didn't have time to screen everyone who requested press credentials and erred on the side of access. But there are a couple of flies in that ointment. For one thing, the Trump campaign hasn't been shy about denying press credentials to outlets they don't trust. More critically, the GOP front-runner has given plenty of other indications that he's consciously courting the white supremacist vote.
There was the interview on CNN last weekend, when the Donald told Jake Tapper that he didn't know enough about David Duke or "white supremacists" to say whether he disowned their endorsements. Since then, he has repeatedly said that he "disavows" such people. Or rather, whenever he's asked about Duke, he now says, "I disavow" — subject, verb, but no object. Trump does not say, "I disavow the support of white supremacists," or "I don't want the support of anyone who still believes in the fiction that there are superior and inferior races." He has delivered no sound-bite that would ruffle the feathers of the neo-Nazis he so frequently retweets.
Even if Trump is compelled to "disavow" Edwards in the coming days, the radio host won't mind. Like other white supremacists, he recognizes Trump as an ally in the only race that matters to him.
"We don't have to agree with everything Trump says and he doesn't need to agree with everything we say," Edwards writes on his blog. "I firmly believe that everything for which I stand is both natural and healthy, but it wouldn't bother me if Donald Trump himself denounced me and all of my friends. He can denounce me until the cows come home so long as he follows through on his pledge to build a wall and ensures that the aliens self deport. I am supporting him because immigration is the single biggest problem that our nation needs to solve. Demographics is destiny."

This post has been updated to reflect the Trump campaign's position that they are not aware of any such interview.