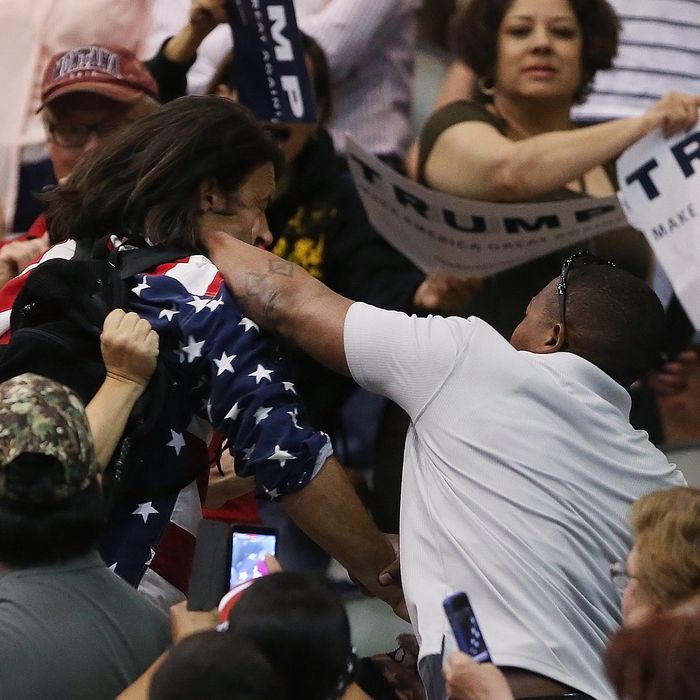 Ouch.
Photo: Mike Christy/Arizona Daily Star via AP
A protester being escorted out of Donald Trump's Saturday night rally in Tucson, Arizona, was attacked, punched, and repeatedly kicked by a rally attendee in the latest incidence of violence at one of the GOP front-runner's campaign events. In videos taken of the attack, a white protester wearing an American flag shirt is seen being escorted up the stairs of the venue in front of another protester, a woman wearing a Ku Klux Klan hood and who may have been giving a Nazi salute to the crowd. A black man in the crowd then rushes the first protester, rips a sign out of his hands, and starts beating him: 
Trump himself had called for the protesters to be removed from the rally after noticing the woman in the KKK hood, and on Sunday morning Trump suggested the protesters had the attack coming, telling ABC's George Stephanopoulos that, "This happened to be an African American man who was very very incensed that someone a protester would be wearing a Ku Klux Klan outfit." That man, 32-year-old Tony Pettway, was arrested at the scene and charged with assault. Nothing else is known about Pettway, including whether he is a Trump supporter, as of midday Sunday.
In addition, Trump campaign manager Corey Lewandowski was involved in separate scuffle at the event when he joined a member of Trump's private security detail in trying to remove a group of anti-Trump protesters who were standing behind Trump waving signs and jeering the candidate while he gave his speech. In a video capturing that brief altercation, a plainclothes security person can be seen aggressively grabbing and pulling a protester by back of his collar as the protester tries to move away, and Lewandowski is also seen grabbing the young man's shirt, albeit with less force than the security person. A campaign spokesperson has insisted to CBS News that Lewandowski didn't in fact touch the protester, but watch the video and decide for yourself:
A zoomed-in, shorter version:
And here is the campaign's full defense of Lewandowski:
Trump commented on the incident himself on Sunday morning, telling ABC's George Stephanopoulos that Lewandowski didn't touch the protester and suggesting he was actually impressed with how his campaign manager would take it upon himself to try and deal with protesters. "I give him credit for having spirit, he wanted them to take down those horrible, profanity-laced signs," Trump said, adding that, "security at the arena, the police were a little bit lax."
Two weeks ago, former Breitbart reporter Michelle Fields filed criminal charges against Lewandowski for assaulting her, alleging that he had grabbed her by the arm and pulled her down as she tried to ask Trump a question at a campaign appearance in Florida. Lewandowski, the Trump campaign, and Trump himself have all tried to refute that claim. 
Earlier Saturday, anti-Trump protesters blocked a primary road leading to another Trump rally in another part of Arizona, causing hours of backed-up traffic.