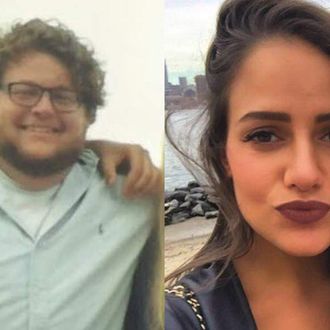 Alexander and Sascha Pinczowski.
Photo: Facebook
Two New Yorkers are now counted among the more than 30 dead from this week's brutal terror attack in Brussels. Siblings Sascha and Alexander Pinczowski, both living in New York, had been missing since the March 22 attacks but this morning were confirmed killed, reports NBC News. 
Both apparently died in the explosions at Zaventem airport. A Dutch paper reported they had been on the phone with a family member to tell them they'd made it to the airport. The person on the other line heard an explosion, after which the line went dead.
Sascha's Facebook page says she was originally from Greece, and, per the Daily News, she attended college at Marymount Manhattan College. Both are Dutch citizens but weren't U.S. citizens. They were at the airport for a flight home to New York. A local North Carolina press outlet reports that Alexander was flying back to meet up with his fiancée so they could travel together to a wedding in Raleigh. 
Two other Americans are confirmed dead, but U.S. officials did not release their identities. They also said it's possible that the death toll could rise.
At least two other Americans are missing after the attacks — a married couple, Justin and Stephanie Shults, who had been living in Belgium since 2014. Justin is originally from Tennessee, and his wife is from Kentucky. The pair had dropped off Stephanie's mom, Carolyn Moore, at the airport, after she visited them in Brussels. A family member told a local station Moore had waved good-bye to them and headed to security when an explosion rocked the airport. Moore survived the blast uninjured, but she — or anyone else — hasn't been able to reach her daughter and son-in-law since the attacks. 
Adding to the confusion, the State Department had mistakenly contacted the family to tell them the Shultses had been found and injured, but the information turned out to incorrect. 
At least four other Americans were also hurt in Brussels, including three Mormon missionaries and a member of the U.S. Air Force. The Mormon missionaries, all from Utah, had been wounded in the airport blast. All are expected to survive, including one, 19-year-old Mason Wells, who had been standing near the finish line in the Boston Marathon bombing and was in France (though not Paris) during the November 13 attacks.
A member of the U.S. Air Force and his family were also wounded in Brussels, though the Pentagon didn't say how seriously they'd been injured or how many had been hurt, though some reports put the total number at five people. The serviceman in question had been serving in Brussels as part of a support team for a NATO mission in Afghanistan, says the Washington Post.