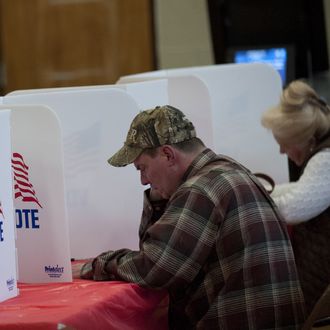 Photo: Jeff Swensen/2016 Getty Images
Donald Trump, who again denounced immigrants in tonight's victory speech in Florida, does not have the greatest relationship with Muslims, to put it mildly. During the last GOP debate, Trump declared outright that "Islam hates us," and in December he called for a ban on all Muslims entering the United States "until our country's representatives can figure out what's going on." Like most of Trump's policy initiatives, it seems extreme, but it turns out a large chunk of GOP voters would support such a ban. According to exit polls conducted by the Associated Press and Edison Research after tonight's primary elections in Ohio, Florida, North Carolina, Missouri, and Illinois, about two-thirds of Republican voters say they support banning noncitizen Muslims from entering the United States.
In Missouri, as many as three-quarters of voters support the ban — that's about 675,000 people. Researchers are quick to point out that most Republican voters want undocumented immigrants already in the country to be given the chance to stay — "only about 4 in 10 Republican voters in each state want all immigrants in the country illegally to be deported." That's no two-thirds, but it still means that 40 percent of Republicans would like to deport all undocumented immigrants in the U.S. 
Perhaps unsurprisingly, about nine in ten Republican primary voters in all five states said they're "unhappy with the direction of the federal government," and four in ten professed to be "angry" with the Obama administration. In addition, "majorities of Republican primary voters in all five states say they feel betrayed by politicians from the Republican Party," which would explain why they're voting for a guy who delights in mocking the GOP Establishment.