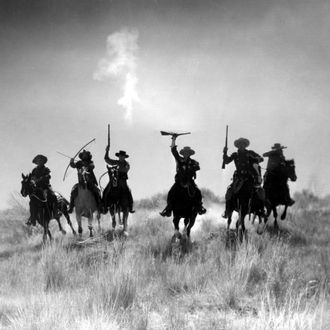 Not how they did it.
Photo: Courtesy Everett Collection
If America were a small frontier town, we would be holding a parade for the sheriff today. The U.S. Justice Department announced on Wednesday that a six-week roundup of the country's fugitives has resulted in the arrest of over 8,000 outlaws. The U.S. Marshals (the closest thing we have to a national sheriff's office) have been conducting "Operation Violence Reduction 12," scouring the country for people on the lam, and rounding up those specifically with open warrants for violent crimes like murder, armed robbery, or aggravated assault. The U.S. Marshals put together a joint task force with regional and district authorities, backed by their investigative authority and fugitive-task-force network, in an operation aimed at clearing bad guys off the docket, wholesale.
As part of the focused approach to rounding up outlaws, officials specifically targeted 12 cities where violent crime has shown upticks. Locales that received a clampdown include Brooklyn; Camden, New Jersey; Chicago; Compton, in Los Angeles; Gary, Indiana; New Orleans; Oakland; Baltimore; and Washington, D.C. Among the public enemies corralled by the federal posse were 559 fugitives wanted for murder, 648 gang members, and 946 sex offenders. In Baltimore alone, 148 fugitives were brought in. According to the marshals, the average person who was picked up in the colossal sweep had seven prior arrests and three convictions. In the process, 17 children who had been abducted from their parents were recovered. Maybe the most dramatic confrontation of the operation took place last month, when Blake Fitzgerald and Brittany Harper — a couple whose multistate crime spree had given them the nickname "Bonnie and Clyde" — were located. In the ensuing showdown, Fitzgerald was shot and killed and Harper was arrested.
It follows another sweep conducted around this time last year: Operation Violence Reduction 7 (the numbering logic is unclear, as there doesn't seem to have been an 8 through 11) led to the arrests of 7,100 violent criminals on the run.