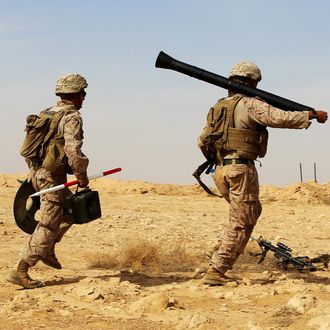 Our boys are getting shipped out.
Photo: Sgt. Owen Kimbrel/U.S. Marine Corps
It was a brutal weekend in Iraq. On Saturday, Staff Sergeant Louis F. Cardin was killed by an ISIS rocket strike south of Mosul, becoming the first American to die in Iraq since October and the second to die in the fight against ISIS there. Seven air strikes in and around Mosul include one that hit Mosul University, a base for ISIS fighters that used to be one of the largest research centers in the Middle East. CNN reports that 17 senior ISIS members and even more local leaders were killed in what one local politician called a "blow" to the militant group. 
As the violence escalated, the U.S. coalition announced on Sunday that it would be sending more Marines into Iraq. The Pentagon is sending a detachment from the 26th Marine Expeditionary Unit, based at Camp Lejeune, North Carolina, that will shortly join the forces already in the Persian Gulf, the Red Sea, the Arabian Sea, and parts of the Indian Ocean. The number of Marines being deployed was not announced.
Last Thursday, Secretary of State John Kerry began using the word genocide to describe ISIS's acts against the Yazidis, Christians, and Shiite Muslim minority groups living in Iraq and Syria. The new designation does not necessarily carry a legal obligation to act more forcefully, but, as Kerry said, "Naming these crimes is important, but what is essential is to stop them."