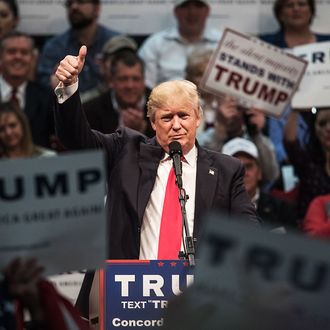 Incitement, by Trump.
Photo: Sean Rayford/Getty Images
A Donald Trump supporter sucker-punched a protester at a rally in North Carolina on Wednesday. Police then pulled the protester to the ground and handcuffed him, allowing his assailant to continue enjoying the GOP front-runner's speech. It may shock you to learn that, in the videos documenting the altercation, the Trump supporter appears to have white skin, while the protester is black.
Happily, many hours and viral videos later, the Fayetteville police have brought charges against the attacker, a 78-year-old man named John McGraw, according to local station WRAL.
The trouble began when 26-year-old inventory associate Rakeem Jones decided to attend the Trump rally in Fayetteville, North Carolina, with a "diverse" group of friends, including a Muslim man, a white woman, and a gay man. Jones told the Washington Post that they had decided to attend the event as a "social experiment." He said his female companion started shouting when Trump began speaking, but that "everyone was shouting" and "no one in our group attempted to get physical."
Nonetheless, someone in the crowd pointed to the group and screamed, "You need to get the f— out of there," Jones's friend Ronnie C. Rouse told the Post. He said they were immediately surrounded by eight Cumberland County officers, who escorted them to the exits. In the video, as they are escorted up the venue's stairs, Jones appears to flip off the crowd. Then a ponytailed man in a cowboy hat punches him the face.
"The police jumped on me like I was the one swinging." Jones told the Post. "My eye still hurts. It's just shocking. The shock of it all is starting to set in. It's like this dude really hit me and they let him get away with it."
No politician can handpick his or her supporters. And there's no reason to think that Trump bears any responsibility for the frequent violence at his rallies. Granted, Trump once suggested that protesters "deserved to get roughed-up." And, okay, he has offered on multiple occasions to pay his supporters' legal fees if they "knock the hell" out of protesters. Oh, and he's also told them how great it would be if he could punch a protester in the face. Still, hard to imagine any Trump supporter taking that statement as inspiration for punching a protester in the face.
This piece has been updated with news of the charges against McGraw.