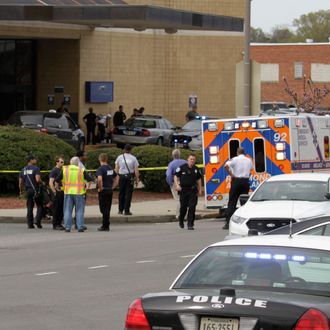 Virginia police secure the scene of the shooting.
Photo: Jay Paul/Getty Images
A gunman in a Greyhound bus station in Richmond, Virginia, opened fire Thursday afternoon, killing Virginia state trooper Chad P. Dermyer and wounding two bystanders, the Associated Press reports. Dermyer was shot multiple times and later died of his injuries at an area hospital, but neither civilian suffered life-threatening injuries. Two other state troopers on the scene shot and killed the gunman immediately after he killed Dermyer. The gunman's motive is unknown.
Corinne N. Geller, a state police spokesperson, told the Washington Post that Dermyer and the suspect were talking near the station's entryway around 2:45 p.m. The suspect then "pulled out a gun and shot the officer." 
The response was immediate — officers with body armor and riot shields reportedly arrived on the scene within minutes. "It seemed like every police officer in Richmond" was there, Charles Leazott, who works across from the bus station, told the Post. "I've never seen so many police officers in one place." 
Police have yet to release the gunman's identity, and a representative from the FBI's Richmond office told the Post officials are still "assembling resources" and "gathering information." Dermyer is survived by his wife and two children.