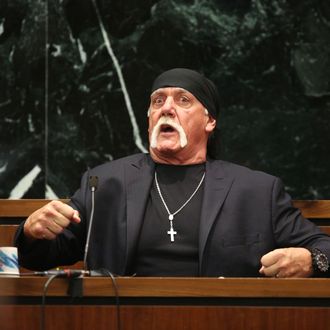 Hulk Hogan.
Photo: John Pendygraft-Pool/Getty Images
The trial between Hulk Hogan and Gawker Media over excerpts of his sex tape continued on Monday, with three Gawker editors running through the publication process of the post in question.
In case you're just catching up, Hogan — real name Terry Bollea — is suing Gawker and its former editor, A.J. Daulerio, over a video published on Gawker in 2012 containing excerpts from a sex tape featuring Hogan and Heather Clem, the wife of radio host Bubba the Love Sponge Clem. Four years later, Daulerio, Hogan, and Gawker founder Nick Denton are now on opposite sides of a St. Petersburg, Florida, courtroom.
Last week, Hogan's lawyers made their case. Jurors were shown taped depositions of Daulerio, Denton, Jezebel editor-in-chief Emma Carmichael (at the time Gawker's managing editor), and Gawker Media executive editor John Cook (at the time a senior writer). Of these, the most memorable was Daulerio's, thanks to a dumb joke that, while clearly a joke, was also about child pornography — an extremely stupid move in a legal setting at which your ethics are being called into question (bad jokes are a running theme in this trial). On the, I guess, lighter side (?), the jury also heard from a sex-tape broker, who said that sites use these tapes to boost traffic.
Which brings us to today, the first day Gawker's lawyers were given a chance to make their case. First up: Daulerio himself.
Wait, I'm sorry: Did you say Bubba the Love Sponge Clem?
Yes. Clem, a Florida shock jock and onetime close friend of Hogan's, is a central figure to the story of the tape. He's so far refused to testify on Fifth Amendment grounds: In the weeks following the post's publication, Clem initially said Hogan was aware of being filmed, then settled his suit with Hogan, and then said that Hogan did not know he was being filmed. Either story Clem goes with in court can be contradicted by his own statements, and he could be in further trouble if his answers contradicted statements he gave to the FBI.
In other words, with Clem's testimony, Gawker might be able to establish that Hogan knew he was being filmed for the tape — undermining Hogan's lawyers' claim that the tape counts as "revenge porn." Gawker has continued to declare that if Clem does not testify, essential aspects of the case will be missing from their argument. "Defendants will be deprived of evidence that is necessary to establish certain facts and is of central importance to their defenses," lawyers for the site have said.
Where was Daulerio when the actual tape was sent to Gawker's offices?
Daulerio was in Montana, attending a Pearl Jam concert, a fact that is now in the public record.
What else did we learn from today's testimony?
For the most part, all of the defense's witnesses today — A.J. Daulerio, former managing editor Emma Carmichael, and Nick Denton — were meant to establish that Gawker handled the post's writing and publication professionally, and that the impetus for the post was news value, not traffic. Daulerio did attempt some damage control, reiterating that earlier comments he'd made in a deposition about publishing a sex tape featuring anyone older than 4 were sarcastic.
In cross-examination, part of Carmichael's testimony focused on how news organizations process email. As a not-really-smoking gun, lawyers for Hogan produced an email sent to Gawker's tip line six months prior to the Hogan post. The email was a TMZ news blast including the detail that the Hogan tape was filmed without his knowledge. Hogan's team was trying to establish that Gawker knew about the tape's status, the defense then clarified that — as is common with most news-site tip lines — many of those emails go unread. Receiving an email does not mean it was read and processed. Whether the Florida jury will go along with that is another matter.
Who was the slimiest person today?
Weirdly, on a day when the guy who made a sarcastic child-porn joke during a deposition testified, one of the jurors came across worse. In Florida jury trials, jurors are allowed to anonymously submit questions to witnesses; one asked Carmichael if she'd ever had an "intimate relationship" with Daulerio or Denton. This was an indirect extension of the plaintiff's line of question about Carmichael's training and work history, establishing her as young and without formal training. Clearly, the jury wondered if she'd come into her job by other means. Daulerio was not asked a similar question about his relationship to his colleagues.
On a day in which Gawker made its best push to emphasize that it had acted responsibly and in its readers' interest, at least one jury member indicated that they had already made up their mind.
Did Nick Denton say anything about the post?
Denton took the stand today but didn't even get to the Hogan post. Most of his testimony so far has been to establish his work as technologically curious and to establish that site traffic is not the only or primary metric of evaluating a story or a writer's worth.