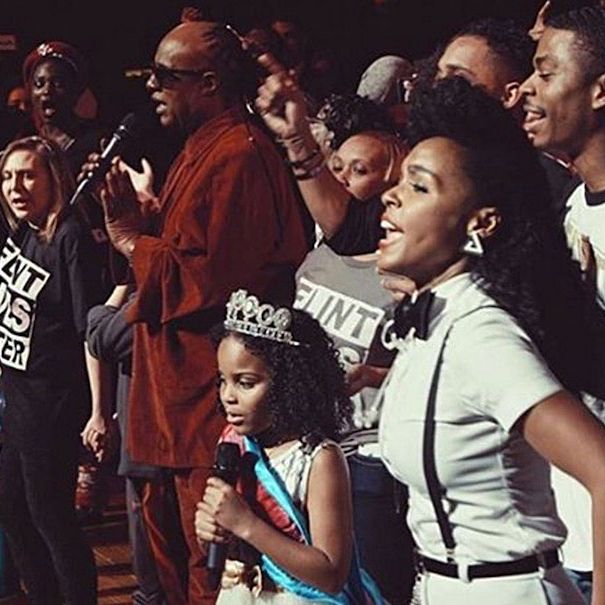 At #JusticeForFlint rally, from Janelle Monae's Instagram.
Photo: kymmicee/Instagram
"I've never been very good at giving speeches," Stevie Wonder said to the crowd. "Before coming here today, I had a lot of things on my mind. A lot of things that you don't have to see to understand. We are in a very troublesome time in the world. A time in which a man can get life in prison for stealing 50 cents. And another man killed four human beings and is freed. A time in which a man can get 12 years in prison for possession of marijuana and another who can kill four students at Kent State and come out free. What kind of shit is that?"
This was on December 10, 1971, at the John Sinclair Freedom Rally in Ann Arbor, Michigan. It was a protest and a concert, with activists, members of Hollywood, and musicians present, all there to sing songs and make speeches on behalf of a man (Sinclair, a white anti-racism activist from Flint, Michigan) who was imprisoned for having two joints on his person. After the speech, Stevie — seething with disgust at the government and the laws and inequality — went into an impassioned version of "Heaven Help Us All."
This was 1971. Forty-four years later and 54 miles up the road, I stood side stage left at the Whiting Auditorium in Flint, as the evening's rumor had just been verified. Stevie Wonder had just shown up and was standing about ten feet away, and it looked as if he was going to join Janelle Monáe onstage. And because this is Stevie we're talking about, there would be singing, but also some talking because Stevie always has something to say.
The night was billed #JusticeForFlint. On Oscars Sunday, celebrities from both the worlds of music and Hollywood made their way to Flint, to raise awareness and money for those in the city impacted by the city's contaminated water. Even after a year or two of ever-more-remarkable political responses to civil-rights crises, it was a remarkable event. We tend to be skeptical of celebrity activism — it's easy to question the real commitment of somebody who goes home to lavish comforts, especially when the rallying is so often of the fly-by kind. But there is a new generation of black celebrity activism happening in this American moment, many of the actions partially guided by black celebrity activists of the past. And that continuity is bracing, especially for someone with any reflexive skepticism, since it's a sign of not just the lifelong commitments of elder statesmen and women but the aspiration of new activists to match that commitment, extend it across generations, and measure their own work on the scale of acknowledged giants. So seeing someone like Stevie, standing shoulder to shoulder with a Janelle Monáe, is a sight to see, yes, but also a lesson about what's changed and what hasn't, for politics, for activism, and for the constant need for black art and expression to help people push through the hardest of times. This night in Flint, because of the city's water crisis, was no different. And it felt to me, truly, that the new crew was up to the task.
Calling the Flint water issue a "crisis" does stress something serious, but it almost gives the impression that a natural occurrence happened, like when there's a drought. Like when you live in the South and there's a heat wave and you're only supposed to water your lawn every other day.
Instead of crisis, a more accurate descriptor would be the thing in Flint when the government actively poisoned the residents for two years and the only reason the cycle is slowly being reversed now is because they got caught, but they probably never thought they'd get caught because so many of the residents are poor and black, but, news flash, it's not just black people getting sick; it's everyone in Flint, but unfortunately that's what happens when you exist near black people. 
In 2014, a decision was made on the grounds of cost-cutting to switch the Flint water source to the local river water. But all water isn't the same, and a new source can potentially have a terrible impact on the pipes that the water flows through, which is exactly what happened. It can cause lead to then leach into the water, which is exactly what happened. And when consumed, that contaminated water can have grave effects on people, which is exactly what happened.
The residents of Flint have been poisoned by their own government. People are sick. People have died. It's affecting children at an alarming rate, with as many as 12,000 identified as being exposed to the lead so far. And all of it could have been prevented.
Justice was the only appropriate word to tag to the event, because the actions are criminal. But like so many terrible, unfair, inequitable things that happen in heavily black areas of the country (Chicago, Ferguson), the narrative would have you believe that it's happening in a faraway land, a place so inaccessible you could never go see and learn what's happening for yourself. And when this narrative is attached, as it has been with Flint, the average person learns about it, is sad, wishes their best, and then goes on with their life.
The goal of this activism is to stress the severity of the situation, but also to let it be known that this is happening in all of our backyards. Leading up to the night, there was a movement to try to pit the Oscars against what was happening in Flint, as if it were this Sunday night showdown: white people in Hollywood versus black people in Flint. One of the organizers, Selma director Ava DuVernay, shut that down, suggesting that they didn't want to turn down the event simply because it was an important night in her world of Hollywood. Grey's Anatomy actor Jesse Williams went further, however, saying, "They really worked hard to try and make it about the Oscars. It's like, you guys really don't think we exist outside of the white gaze. We exist when you aren't in the room. We make decisions. How about we just made a choice to do something." That sentiment from the organizers was echoed during the event, because no one in that room cared about the Oscars. And no one talked about the Oscars. The word was only mentioned once onstage. Because the way the event was very compassionately organized, it never got too far away from what was happening in Flint, because nothing on that night was more important than Flint. As George Peters, a member of Monáe's Wondaland collective, said, "There wasn't any other place to be."
Onstage, Monáe had just finished the triumphant "Cold World," then prepared to introduce Wonder. People were actually gasping backstage as Stevie, draped in maroon, walked by. But then he just stopped. There were probably 40 of us less than ten feet away. He was just standing there. Stevie fucking Wonder. It didn't matter who you were, whether a small kid or singer Jazmine Sullivan, you could not stop looking at Stevie Wonder. It's one thing to see peers, heroes of your generation, crusading for your causes — but the sense of purpose is amplified when they're seemingly getting their actions co-signed by the heroes of your parents' generation, the ones who fought so that events like this could happen, that we could exist.
When Monáe walked over to the side stage and brought out Stevie Wonder in Flint, Michigan, the room of 2,000 went insane.
Stevie was the event's clear pinnacle of fame, but throughout the night many other celebrities came to the stage, too, all of them younger, of a different generation. The first to speak was the main organizer, Creed director Ryan Coogler. There was also Williams, Empire's Jussie Smollett, pianist Robert Glasper, rapper Vic Mensa, actor Hill Harper, singer Estelle, singer Musiq Soulchild, and many others. But it wasn't just them. It so wasn't just them. The night never became too entertaining. When the new mayor of the city, Karen Weaver, took the stage in the beginning of the night, she mentioned that Flint deserved a night of fun like this. And they did. But throughout the night, we also heard over and over from residents onstage. And they made it clear that this was not like most other disasters — a bad storm that destroys things and moves on. This problem was ongoing. There was the woman who came out to talk about how she miscarried twins, the tragic event tied to the contaminated water. There were the three kids who came out and talked about how their school was making them purchase bottled water from the vending machine if they wanted non-contaminated water, causing an angered howl from the audience. There was Flint pediatrician Dr. Mona Hanna-Attisha, who was instrumental in making the lead poisoning a known issue, talking about how strong the children of Flint were. There was the Latino resident who spoke about how many of the people in her community didn't know about the contaminated water for much longer than most in Flint, because all of the notifications were in English. There were the four young boys — brothers — who took the stage and told stories of how getting lead poisoning had impacted them. And there was perhaps the performance of the night, the Flint Youth Poets, who took the governor to task, spoke about what was happening to their city, with the confidence of fed-up adults who weren't going to take it anymore.
What did they think of all these celebrities parachuting into their city? Many were thankful that they'd come, and for raising awareness, but what about when they left? There was some clear bitterness that they got to get some good publicity from the city's dire situation and then could leave. That was especially true in the beginning of the night, and rightfully so. But as the evening continued, there was that shift that never happens, with individuals increasingly responding to the famous people as if they were there less to entertain and more in solidarity. You could feel the distrust fade in the room. And, yes, Stevie's presence at the end solidified that, the man representing what it means to be both peak entertainment and peak consciousness.
As Stevie took his position and Janelle began to walk away, he referred to her as his "she-ro." And then he began to talk. "I was in Detroit for a homegoing celebration," Stevie said, "and I heard about this, and I said, 'You know, I'm too close to be so far away.'"
This is the kind of deep commitment the residents of Flint — and everyone — needed to hear. You knew it was genuine. Stevie doesn't need any "good press." Stevie doesn't need to do anything to prove he's a socially conscious celebrity. He told the people in the room — a room of residents who have been knowingly poisoned by their own government — that he was there because he couldn't miss it. "The reality is we all need water. That's a human right," Stevie said. "And it should be clean water," he punched.
Stevie said, "Protect the human family. Protect all of your children, whatever ethnicity they are. That's what I have to say about that. And if some of you don't agree, I'm sorry, but I love you anyway." The way he said it, it was almost as if he was letting it be known that he would not play the semantical game of being a "Black Lives Matter" versus "All Lives Matter" person, because on this night what Flint needed was unity and love, not arguments over crew affiliation. And that was echoed throughout the venue, with many residents and performers wearing "Flint Lives Matter" shirts. Though he did describe at least one villain, Governor Snyder. "If you come to my show and the musical director is off, he has got to go. He must be fired." The crowd roared. Stevie brilliantly described the example as "different song, same key," a clear allusion to his classic double album, foreshadowing the song he was about to sing, track one from Songs in the Key of Life, "Love's in Need of Love Today." Much like it was when he sang it at Whitney Houston's funeral, this is a song that feels the best when you're at your lowest. Because that's what Stevie has always done: He shows up when people need a prayer the most.
—
My flight to Flint that morning had been via Chicago, but that first flight was delayed two hours. When I arrived at O'Hare, I walked up to the board to look for the location of my Flint gate. There was no Flint. I stared at the F's for three minutes — still no Flint. The flight to Flint had already left, but customer service told me not to worry, there was one that left at 9 p.m. At the time of this conversation, it was 2 p.m.
There was nothing about driving to Flint that was appealing. But I still started walking toward the car-rental shuttles, mainly because this would be the second event of this nature organized by the group Blackout for Human Rights. The first was in Harlem's Riverside Church on Martin Luther King Day, and on that day it was the first real sign I'd seen that some things were beginning to change — that people with blossoming careers, at the height of being in the good graces of the public, were beginning to put their glossy reputations on the line to stand up for what they believed. It was a conscious throwback — a tribute — that was also, in a way, a throw forward. It's a moment you're waiting on, because if they can do it, there's a trickle down, giving others the confidence to do it.
On that Monday holiday, I put on a suit and went to Riverside to sit in a pew, purely as a spectator. I had no plans to cover the proceedings; I didn't have much of an idea of what to expect, but what I'd gathered was that Coogler, a founding member of the Blackout organization, had rounded up some people to do a unique celebration. Like Flint, this event was livestreamed, and there would be celebrities doing things outside of their normal comfort zone, in the name of activism and awareness.
The event was called #MLKNOW, and for the amount of fame in the room, the atmosphere was shockingly casual. All of the performers walked down the aisle with little fanfare, Coogler eventually taking the microphone onstage and welcoming everyone. He endearingly offered the "bear with us" disclaimer, since a lot of things had come together quickly and the point of the day wasn't to just be shiny. But he could do that because of who he'd brought in the building and what they were about to display. The tone of the day wasn't protest — it was awareness. And more than anything, connecting the dots between powerful figures of the past and the present, showing that being a minority and having a platform automatically cements you as part of a lineage.
Hamilton's Lin-Manuel Miranda began, reciting King's "Beyond Vietnam" speech (given in that very church, in 1967). Actress Condola Rashad did Shirley Chisholm's 1972 presidential-campaign announcement. Michael B. Jordan channeled Fred Hampton, performing the very church-unfriendly "Power Anywhere Where There's People." Before the next person, Coogler ran back onstage and alerted the room that he'd just met one of his heroes, Chris Rock, further adding to the very elite talent-show vibe of the day. Rock, having just been at Madison Square Garden for a double-overtime Knicks game, took the lectern and did James Baldwin's "My Dungeon Shook — Letter to My Nephew."
There was a moment in each speech where the room got its collective wind knocked out, by way of the words, matched with the delivery. It was like being punched by the past, the words still so relevant in the present. With Rock, it was this moment:
Any upheaval in the universe is terrifying because it so profoundly attacks one's sense of one's own reality. Well, the black man has functioned in the white man's world as a fixed star, as an immovable pillar, and as he moves out of his place, heaven and earth are shaken to their foundations.
I'd read this piece in The Fire Next Time many times, but something different happens when you hear it. And something completely different happens when someone you admire for his contributions to your life reads the words of the man who has arguably contributed more than any other artist to your life.
I remember hearing this, listening to the room cheer, and bowing my head. I put my hand on my neighbor's knee, George, the same George from Monáe's band. He wasn't there to perform — like me, the event simply felt unmissable. And at that moment, I knew I was where I was supposed to be. And then Harry Belafonte showed up.
It could not have meant more to me. Not only was he an elder, but he was the famous black activist archetype. He represented institutional memory, what someone with a platform once did and can still do. What it looks like to put your short-term career and success on the line for what is long-term importance. He was the living example that these celebrities taking the stage could strive toward, should they be up to the task. He was proof that you could leverage fame to affect society.
Hearing Rock do Baldwin and seeing Belafonte in attendance is what got me in the car to drive to Flint. I had a responsibility to go. Livestreams were great, but livestreams didn't tell the whole story.
Writer Rachel Kaadzi Ghansah once said, "The stakes are high. I'm not just writing this to write. I'm writing because I think there's something I need to say. And there's something that needs to be said." Heading to Flint for me was that. There's a responsibility that goes with being black and having a platform. It was my duty to be here, to show support, and to tell all the stories packed into this one venue, on this one night. And to some extent, if you have one and you don't use it properly, you're openly mocking a Belafonte, a Stevie Wonder.
–
I woke up Monday morning completely exhausted. Still half-sleep in the hotel room, I stumbled to the bathroom, found a cup, turned on the faucet, filled up my cup, and chugged it in two big gulps. Right when I finished, I remembered where I was.
I'd just drunk water contaminated with lead from a Holiday Inn Express hotel room that I paid for. At any other moment, I would have been terrified, paranoid. But not after the previous night. Because no matter what, in two hours I was leaving Flint today, to drive to Detroit, to take a shower and then fly home. I had that luxury. The people I met that night, whom I heard speak, the helpless children who would never have normal childhoods, they didn't.
I looked at myself in the mirror and knew, in some sick way, I deserved a little bit of that poison. We all did. If the people of Flint had to go through this, so did all of us.
Gathering my things, I couldn't help but think about how the night had ended. The last 20 minutes of the show were essentially a revival, creating a rolling sense of urgency and passion that made me want to keep the night going as long as possible. Monáe and her band closed out the night with their drum-heavy protest anthem "Hell You Talmbout." It was originally conceived as a song about police brutality, but that night it was for Flint. With Stevie in tow at the front of the stage, she instructed the crowd on how the call-and-response would go.
"Flint lives … matter."
"Clean water … matters."
"Fix the pipes … right now."
As the song started, the stage began to fill. Performers, residents, and people involved in the event crowded the stage, and the intensity of the song only grew throughout the hall. Next thing I knew, I was onstage, behind the band, screaming and dancing with everyone else. And as it wrapped up, a circle had formed in the middle of the stage, with Coogler at the center jumping up and down and yelling the song's lyrics. As Smollett had said earlier in the night, "We may not be residents of Flint, but we are Flint."
When I eventually made my exit, a gigantic pile of water-bottle crates that sat by the entrance were half-gone. As I walked to my car, I saw a father and his kids standing on the curb, clearly waiting for someone to come pick them up with the car. They had six crates of water with them, enough to probably take care of drinking, cooking, and showering for a week or two. On a night in which the event had raised over $100,000, seeing some impact up close felt good. But it was also a sobering reminder that it was temporary, because the city's problems very much were not.
I had so much on my mind, and all I wanted to do was talk it out. And I wasn't the only one. Thankfully, earlier in the night, I'd reached out to both Jesse Williams and the event's host, comedian Hannibal Buress, to talk after the event, and an hour after it concluded, the three of us, along with my friend Ken and Buress's tour DJ Tony Trimm, were at the one bar in the area we found that stayed open past midnight.
Nothing about the next two hours in the bar felt odd. These two men, famous black men, had come to Flint because they felt compelled to and now were both at a bar — decompressing, laughing, shaking their head at how terrible the world is — with no one in the room having the first clue who they were. Buress had previously provided aid to Flint by way of Big Sean's foundation, and Coogler reached out to him, asking if he would host. "I think it went really well," Buress said. "But there's still lots of work to do, though."
Williams is a member of the hosting Blackout organization, so he was much more involved in the event taking place. A self-proclaimed activist before he ever considered being an actor, he mentioned while sitting at the bar that he could tell we were in a moment, one where people are getting more comfortable with what he called "being black in public." "We've always been told that the ice was very thin and that you will fall in if you fuck with it. But we're seeing people do it and survive. And in some instances, continue to thrive. And people are now just seeing us step out and be ourselves. Fire off a tweet that doesn't just let that go. Or respond to a person who is bashing you and not just letting that go. Pushing back on a project and not just letting the mistreatment or dismissiveness go."
He was right. This was a moment, and social media has been a training ground for black people (and any historically disenfranchised group) to have that true moment of confronting the fear that comes from dipping that toe in, disrupting your own personal status quo — your bosses, your colleagues, your friends, your family members — and making them think twice about who you actually are. And then, after the toe, gaining the confidence to dip in the entire foot. And so on.
After a good deal of fried food, drinks, and conversations, we all went our separate ways. Without articulating it, I could feel how things were changing, just by the sheer fact that we'd gathered at a bar in Flint, Michigan, on the same night as the Oscars. I knew that the more people from all walks of life began to know each other and talk about these things out loud, the more confident we all got in making the leap from dipping the foot to doing what we knew to be true all long: needing to just jump in. It's a power-in-numbers situation, regardless of what you do.
It's why it's important to see people like Coogler, DuVernay, Williams, and Monáe understand the connections they have to people like Stevie, like Belafonte. They remind you that you're not the first person to put it on the line. Both men were at the funeral of Martin Luther King Jr. in 1968. When Stevie found out that his local congressman John Conyers introduced a bill for a national holiday in the slain leader's honor soon after, it was Wonder who began to round up the troops to try to help make this happen. He led rallies and got people across the full spectrum of influence to raise awareness, in the hopes of making this dream a reality. Fifteen years later, it happened. That's much longer than it should have taken, but it happened. And it never happens if black people with the unique black gift of a platform don't put something on the line, for the long-term gain. A peer of Stevie's, Donny Hathaway, sang, "Take it from me, someday we'll all be free," in 1973. It's sad to know we're still not there. They're still killing us, poisoning us, making us feel lesser than. But in these moments, even more than politics or the traditional idea of leadership, it's always been art that's kept us believing that one day it'll get better. Some of our best black art has been inspiring songs of liberation, but inherent in liberation is the reality of still not being free. Our most important songs stem from bad times — the juxtaposition of black frustration and black hope — that hopefully will lead to a better tomorrow. Because when it comes to being black in America, it's still not about pushing us into the black — it's more just trying to lift us out of the red.