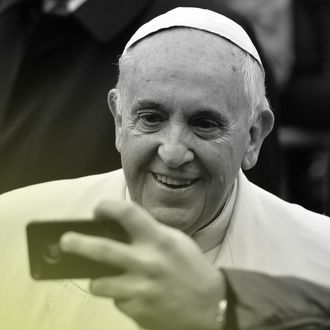 Pope Francis.
Photo: ANDREAS SOLARO/AFP/Getty Images
Mortal leader of the Roman Catholic Church and pathological tech-lover Pope Francis is reportedly planning to join Instagram this Saturday, March 19 — just in time for Palm Sunday! The big news comes after he met with the app's founder and chief executive officer Kevin Systrom back in February, and shouldn't be too much of a surprise considering his very active Twitter presence.
But since the Vatican already has a very boring, verified Instagram account, I've put together some free pitches to help the pope spice up his feed. There are plenty of celebrity Instagrammers out there keeping things both PG and fun, and he could be one of them.
First order of business: He needs to Google Lisa Rinna from The Real Housewives of Beverly Hills and mock up some prayerful, Pinterest-ass inspirational graphics. Do you know how shareable those things are? I'm sure someone in the Vatican has access to Photoshop or MS Paint — he just needs to get them on the horn and have them queue up a fuckload of Psalms.
Few things on Instagram can compete with Oprah's #HarvestDay posts, where she touts all the fresh veggies and weird-looking foods she grows in her garden by holding overflowing baskets of them up to her face. While I'm sure Francis isn't running a vegan homestead inside the Vatican, that doesn't mean he can't improvise with some holier props. #NewCandleDay would be tight as hell. Feed us those piping-hot selfies.
The true gift of Martha Stewart's personal Instagram account is that it's so undeniably run by her and her alone. The Martha Stewart official account is where all the branded photos of inspirational Easter eggs go, but marthastewart48 is where she posts grainy, poorly lit photos of food and leaves a 30-typo description of what it was like running into Lionel Richie at a gala. Francis should treat this account the same way: Let the official Vatican worry about polish and shine, and serve us some true behind-the-scenes, humanizing shit in your personal grams.