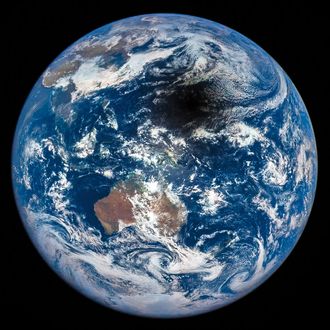 Hi, total solar eclipse!
Photo: NASA
The moon blotted out the sun in the skies above the Indian Ocean Wednesday, giving people in parts of Indonesia, Australia, and the islands in between the chance to put on funky protective eyewear and glimpse 2016's only total solar eclipse. 
The rest of the world missed out, and there won't be another total solar eclipse until August 2017, when the United States will have one of the best seats on the planet. But, thanks to NASA's Earth Observatory, you can check out the eclipse from a far different angle. NASA captured these images from its Deep Space Climate Observatory (DSCOVR). From above, the eclipse looks like a big, black bruise making its way across Planet Earth, but as Adam Szabo, a NASA scientist said, this may be the first time a satellite has ever captured "the full eclipse in one set of images or video."
Watch.