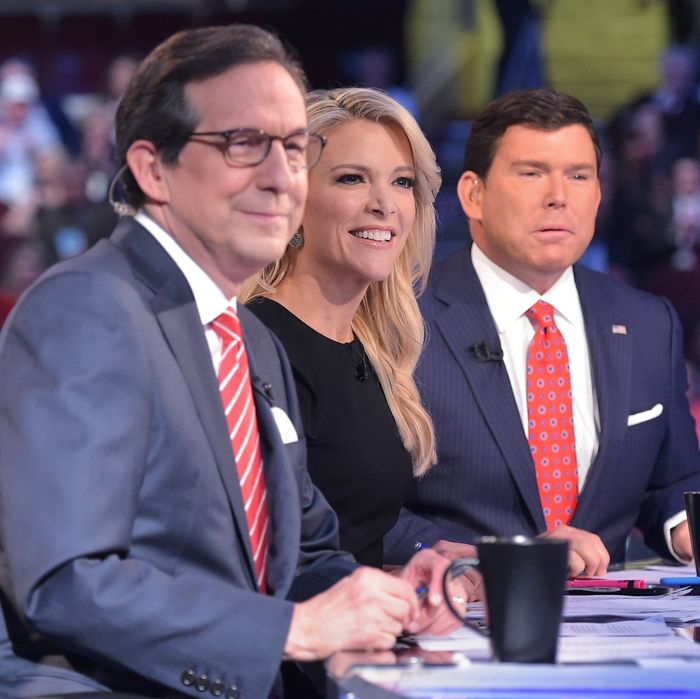 The first Fox News GOP debate, where all the trouble started.
Photo: MANDEL NGAN
The last GOP debate was just a week ago, but in some ways it feels like it's been weeks since Marco Rubio pounded Donald Trump with preloaded one-liners and Ben Carson mused about the "fruit salad of our lives." Since then, the GOP Establishment's nightmare has become a reality, with Trump sweeping seven Super Tuesday states, Cruz hanging on with three, and Rubio, the Republican savior, only managing to score one win. As if that weren't enough of a recipe for drama, Thursday night's debate will be hosted by Fox News, with Trump nemesis Megyn Kelly serving as moderator. Here's a guide to get you up to speed, and be sure to tune in tonight for Daily Intelligencer's live-blog and complete debate coverage.
When and where is the debate being held?
Thursday at 9 p.m. ET at the Fox Theater in Detroit, Michigan.
How can I watch it?
The debate will air on Fox News, Fox News Radio, and all of the network's mobile apps. You can also stream it with no login required at FoxNews.com.
Who's moderating?
The same crew from Fox News's previous presidential debates: Bret Baier, Megyn Kelly, and Chris Wallace.
Which candidates will be there?
All of the current Republican candidates — Donald Trump, Marco Rubio, Ted Cruz, and John Kasich — minus Ben Carson. Technically Carson is still in the race, but following his terrible Super Tuesday performance he issued a statement saying he does "not see a political path forward" and thus will not attend the debate.
As you'll recall, Trump skipped the last Fox News debate over his ongoing feud with Megyn Kelly. He initially claimed that she is "very biased" and should not be allowed to moderate, but he eventually became more incensed by how network CEO Roger Ailes handled the incident. Now he claims his boycott was about "a memo that was sent out by Fox that was a little bit taunting and I said it was inappropriate," but had "nothing to do with Megyn Kelly," so he's happy to appear at the March 3 debate.
But of course, with Trump there's always more drama. This week New York's Gabriel Sherman reported that Trump considered skipping Thursday's debate if he performed well on Super Tuesday, in an effort to hurt Fox's ratings and send the message that he no longer considers Cruz and Rubio credible rivals. Publicly, Trump says he never thought about missing his first rematch with Kelly since the August 6 debate. Sherman says a source explained "that Trump changed his mind because he wanted to maintain the element of surprise."

What does the venue look like?
The "Oriental style" Fox Theater was constructed in 1928. It declined with the rest of the Motor City in the late '60s and '70s, but was restored and declared a National Historic Landmark in 1989.
How will the location influence the debate?
Republicans will cast their ballots in a handful of states on Saturday (Kansas, Kentucky, Maine, Nebraska, and Louisiana), but the next big prize is Michigan, which holds its primaries on Tuesday. The state awards 59 delegates, and the candidates — particularly John Kasich — are hoping to pick up some momentum with a win there before the next round of crucial races on March 15. However, that seems fairly unlikely, as Trump has a double-digit lead in the latest poll.
It will also be interesting to see whether the candidates are pressed on the water crisis in Flint, Michigan. Hillary Clinton and Bernie Sanders have both visited the city and discussed the issue at length, and Flint will host the next Democratic debate on Sunday. However, the issue rarely comes up in Republican debates.
Will the debate be as fiery as the last one?
It's hard to predict how the candidates will behave. On the one hand, this is one of their last opportunities to stop Trump from becoming the GOP nominee (in fact, it's probably too late). On the other hand, while Rubio is still attacking Trump, the New York Times reports that following his embarrassing losses on Super Tuesday, he's dropped the childish jokes about Trump having tiny hands and theoretically wetting his pants. Trump was also weirdly low-key at his victory press conference on Tuesday night. He was still combative and presented incoherent policies, but maybe he's switched into his version of "presidential mode."
How the candidates interact with Fox News' moderators is an entirely different question. Gabriel Sherman reported today that Fox News has given up on Rubio, so it will be interesting to see how he's treated at the debate. In multiple interviews on Wednesday, the three moderators emphasized that they intend to be tough but fair (as is always true of Fox News).
They also criticized CNN for letting the last debate go off the rails (see: Wolf Blitzer letting Trump, Rubio, and Cruz scream over each other for a full minute and a half). Wallace told Reuters the last debate was an "embarrassment" for Republicans. "Our goal is to be able to on Friday have a headline that says, 'Fiery, but most substantive debate yet.' That's ideal," Baier told Business Insider. "If we can get to that ideal, fantastic. If we can come close, great. If we can just keep it on the rails, I'm happy."
The truth is people are probably more interested in the Megyn Kelly–Donald Trump rematch than a substantive discussion of the issues. Kelly was a bit inconsistent when discussing her Trump strategy on Wednesday. She told Reuters she has her questions and doesn't plan on discussing her issues with Trump. "Frankly, I have been ready for seven months to move beyond what happened after that August debate," Kelly said. "I feel like it's getting boring. Trump has bigger things to worry about, and so do I."
In an interview with the New York Times, Kelly said that her first question to Trump in the August debate — about his misogynistic attitude — was a level "10," but "I doubt the very first question of the debate will be from me to Trump." There may be a "1o" on Thursday, but "we probably want to ease into it a little more."
So, it sounds like Kelly and the Fox News crew are trying not to provoke Trump this time. Or it did, until she added a quip about the root of their feud: "He for some reason didn't think that question was fair, and then, I think, spent many weeks proving to the world it was fair."