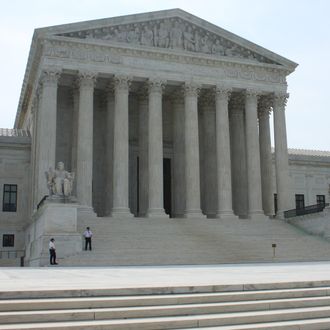 Photo: Evan Golub / Demotix/Corbis
The White House is vetting Jane L. Kelly as a potential Supreme Court justice to replace the late Antonin Scalia, the New York Times reports. If Kelly were nominated and somehow made it past the Senate Republican caucus, she would bring a unique perspective to the bench. Before President Obama appointed Kelly to the Eighth Circuit Court of Appeals in 2013, she had worked for years as a public defender. Presently, the Supreme Court hosts multiple former prosecutors and professors but no career defense attorneys.
The Senate unanimously confirmed Kelly's appointment to the appellate court three years ago. Iowa Republican Chuck Grassley was unreserved in his support, referring to Kelly as a "forthright woman of high integrity and honest character" and a person of "exceptionally keen intellect." Grassley has backed Senate Majority Leader Mitch McConnell's decision not to hold any hearings on Obama's nominee, regardless of the individual's identity. McConnell and his colleagues argue that Obama should leave the appointment to the winner of November's presidential election, in deference to a precedent that does not actually exist.
However, Democrats believe that a Kelly nomination would force Grassley to change his stance, the Times reports. Kelly's chambers are in Cedar Rapids, Iowa, and the Democrats figure that Grassley can't afford to disrespect a local jurist in advance of his reelection fight this fall.
Senate Minority Leader Harry Reid said Wednesday that a nomination could be announced as early as next week.