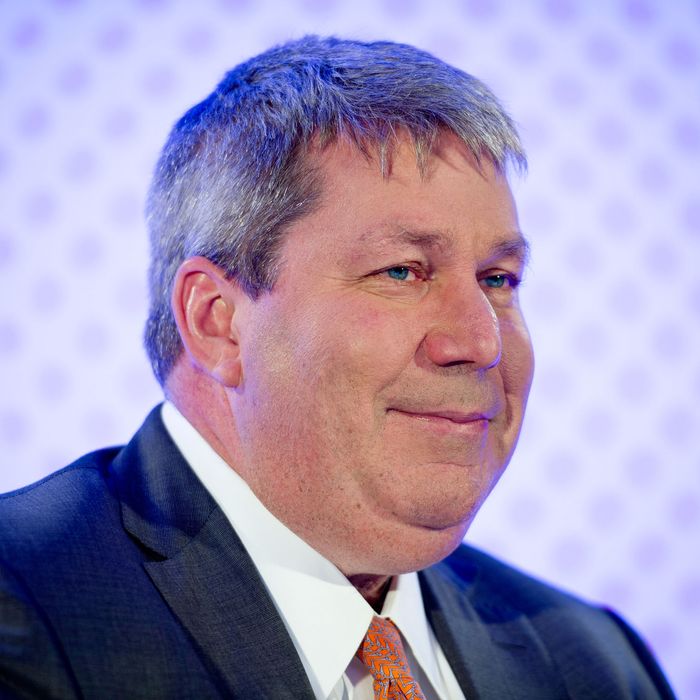 J. Michael Pearson
Photo: Kevin Van Paassen/Bloomberg via Getty Images
After a weekend of bitter conference calls between the company's investors and management, Valeant Pharmaceuticals announced Monday the ejection of its embattled CEO, J. Michael Pearson. His removal follows months of damning revelations stemming from a single lawsuit from a disgruntled pharmacist, which have cumulatively caused Valeant's stock to decline more than 90 percent. Pearson's departure comes at a difficult time: The company recently announced that its last two years of reported earnings must be recalculated and that it had a large drop in profits for 2016; it's also facing scrutiny from the SEC and two state attorneys general; and it's $30 billion in debt. The facts now confirm what the most bearish observers have long contended: that Valeant is the Enron of pharma, and that J. Michael Pearson — a laconic, overweight, former college-hockey benchwarmer — is the new Jeff Skilling.
But there's one key difference between Valeant and Enron: This time, average investors won't share the pain. Although the majority of its profits come from the United States, Valeant's core "asset" is a complex arrangement of tax shelters that technically require the company to be domiciled in Canada. Thus it isn't included in the S&P 500 Index, so most American mutual-fund investors aren't exposed. Instead, Valeant's largest investors are hedge funds, including Wall Street heavyweights like Bill Ackman and John Paulson. Also stung is Ruane Cuniff's (formerly) enormous Sequoia Fund, run by value-investing disciples of Warren Buffett. This impressive collection of supporters is evidence of Pearson's dark genius: He wasn't fleecing dumb money — he was fleecing smart money. Collectively, these firms have lost billions by trusting in the man.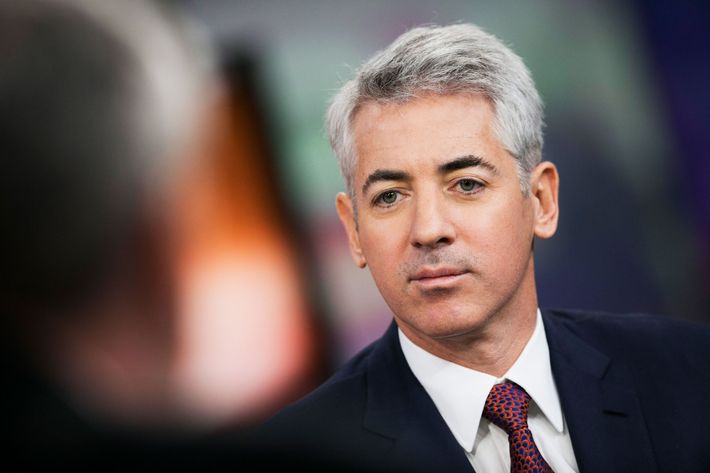 They should have known better. Pearson has no medical background but instead spent 23 years as a McKinsey consultant. His innovations at Valeant were not research breakthroughs but brazen schemes of financial engineering. He mastered the corporate "inversion," moving Valeant's patent portfolios through Canada to Barbados, Ireland, and Luxembourg to avoid paying U.S. taxes. He convinced investors to ignore the company's audited annual reports in favor of nonstandard metrics like "adjusted EBITDA" that he seemed to be making up on the fly. He secured more than $30 billion in junk-bond financing to fund the purchase of more than a thousand separate product lines. And then, through his secret mail-order pharmacy Philidor — a company Valeant has denied even owning, although Pearson's team was clearly in charge — he filled hundreds of thousands of prescriptions for his newly acquired drugs, sometimes at prices 1,000 percent higher than chemically identical generics.
For a long time this engineering worked. Eight months ago Valeant traded at a hundred times earnings, and Pearson was making Forbes's billionaires list. But then the inner workings of the Philidor revenue-inflation scam were exposed, and now Pearson's main concern will be salvaging what remains of his fortune while fighting off shareholder lawsuits. For this he can thank Russell Reitz, the California pharmacist whose lawsuit against the company exposed many of Valeant's illegal schemes. (Reitz remains embroiled in a legal battle with Valeant.)
Valeant's decline is also a win for American patients. The company used its secret mail-order pharmacy network to charge absurd prices for simple combinations of off-patent dermatology drugs. For example, its flagship drug, Jublia, used to remove toenail fungus, could list for as much as $1,000 for two teaspoons of medicine. Although similar generic combinations were far cheaper, the company was able to convince doctors to dispense coupons to patients for branded Jublia, eliminating the need for a brick-and-mortar pharmacy visit. The patient was thus shielded from the astronomical invoice for this simple — and often unnecessary — prescription.
Instead, the health insurer was stuck with the bill. This led to protracted bargaining behind the scenes, but typically Valeant walked away with enormous profits. Facing such berserk cost increases, the insurers were forced to respond by hiking premiums for ordinary customers, even those without any link to Valeant. In short, Valeant was extracting excess rents from every American. If you're wondering why your insurance plan costs $370 a month and you still have a $6,000 deductible, companies like Valeant are the reason. And, while most capitalists have at least some justification for their profit margins, Valeant was an unapologetic price-gouger. After its Philidor network was shuttered, Valeant turned to Walgreens to sell its drugs, at greatly discounted prices. Only rarely can a decline in corporate profitability be so directly linked to a rise in well-being for the average citizen.
For investors the big question is whether any part of Valeant can be saved. Following a five-year acquisition spree, its product line now includes several household names, including Bausch & Lomb eye-care products, a popular formulation of Wellbutrin, and Addyi, the so-called female Viagra. But for shareholders to profit from these assets, Valeant will first have to pay down its debts, even as the company faces higher interest rates. The risk of bankruptcy is real, and even if Valeant survives, the company will spend years deleveraging. For observers like me, though, a more important question looms: how to cast the movie.