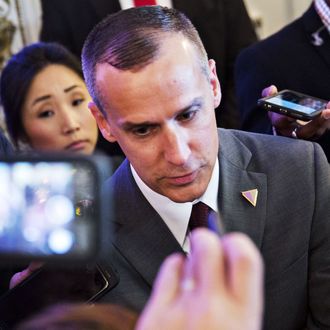 Photo: Andrew Harrer/Bloomberg via Getty Images
Corey Lewandowski, the man who runs Donald Trump's campaign, was charged with misdemeanor battery for allegedly grabbing the arm of reporter Michelle Fields at a campaign event in Florida. A video recording of the alleged incident exists, but according to Trump the tapes prove there's "nothing there." Trump also says Lewandowski has been charged with assault, but, again, the actual charge is misdemeanor — or in Florida parlance, "simple" — battery. 
What's the difference, exactly? Daily Intelligencer spoke with Bob Dekle, the director of the Criminal Prosecution Clinic at the University of Florida's Levin College of Law, to explain what exactly qualifies as battery. Dekle did not comment on this case against Lewandowski, and spoke specifically to state law in Florida, where the charges were brought.
To be charged with battery, Dekle says, "all you have to do is touch someone without their consent." The act has to be intentional — an accidental touch can't rise to the level of battery — but battery doesn't necessarily have to cause bodily harm. A person who purposefully pushes someone in line at a movie theater could have committed battery, Dekle says by way of example, though he adds it would probably be unlikely that a prosecutor would move ahead with that kind of a charge. Still, the strict definition of battery is "any unwanted touching," he says.
So battery is unwanted contact. The threat of unwanted touching, under Florida law, constitutes assault. "An assault is an offer to do violence to somebody that causes the person to have a well-founded fear that they're going to have violence done to them," Dekle explains. He adds that the threat of harm has to be legitimate — saying you're about to put a hex on someone wouldn't count; brandishing a baseball bat could rise to the level of assault. Once a person acts on that threat — he says he will strike you and then he does — it becomes battery.  
Now that we got that speed legal seminar in, here's what the investigating officer wrote about the incident:
Lewandowski then grabbed Fields left arm with his right hand, causing her arm to turn and step back. This motion cleared a path for Lewandowski to walk past Fields, allowing him to "catch up" and get closer to Trump, who was walking during this entire incident.

Based on the above-described investigation, probably [sic] cause exists to charge Corey Lewandowski, DOB 9/18/1973, with (1) count of Simple Battery … in that he did intentionally touch Michelle Fields, DOB 01/10/1988, against the will of Michelle Fields."
In Florida, misdemeanor battery carries a maximum penalty of up to a year in prison, or probation of no more than a year. Lewandowski is due back in court May 4. He reportedly plans to plead "not guilty" — and won't lose his job with the Trump campaign.