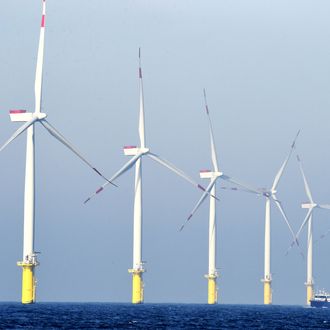 Wind turbines off the German shore.
Photo: Tobias Schwarz/AFP/Getty Images
A wind farm may be coming to the waters off Long Island, albeit years down the line. On Wednesday, the federal government dedicated more than 125 square miles in the Atlantic Ocean for use in developing commercial wind energy, and plans to auction off the lease for the site. The wind farm would be located about 11 nautical miles off the coast of Long Beach and stretch some 26 nautical miles to the southeast.
In 2011, the Long Island Power Authority, the New York Power Authority, and Con Edison went to the Bureau of Ocean Energy Management with a proposal to build a wind farm off Long Island, but federal regulations require that the bureau open up any such project to bidding. The AP reports that at least five companies have expressed interest in leasing the site.
It'll be some time before anything is built and functioning: An environmental assessment needs to be completed before a lease is awarded. Further assessments of the site and construction plans would follow, as would an environmental-impact report on the specific scheme at hand. The Times notes that much of the planning will also be submitted to the public for comment. It's not yet clear whether one company will develop the entire site.
The Times explains how much power it might generate:
In its proposal, the Power Authority said the site could host 194 wind turbines, each generating 3.6 megawatts for a total possible yield of 700 megawatts — or, by some estimates, enough to provide electricity to nearly 300,000 homes.
According to the AP, the wind farm wouldn't be visible from shore. Other such projects have been the subject of debate — notably Cape Wind, in Nantucket Sound — but the Times suggests that this one could be less controversial because it's located so far from land. The paper also notes that, perhaps in anticipation of any concerns, the ocean energy bureau has released simulations of what the views from various spots in New York and New Jersey would become. Here's the view from Jones Beach:
Governor Cuomo has pushed for half of the state's power to come from renewable sources by 2030.
Said interior secretary Sally Jewell in a statement yesterday: "New York has tremendous offshore wind potential, and today's milestone marks another important step in the president's strategy to tap clean, renewable energy from the nation's vast wind and solar resources." The federal government to date has issued 11 leases for wind farms on the East Coast, and the country's first offshore wind farm is currently under construction in the waters off Block Island.