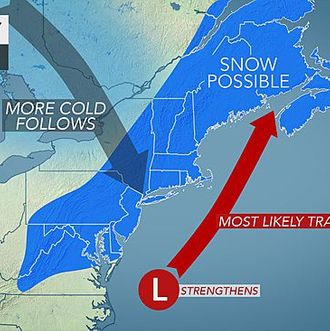 Hahahaha.
Photo: accuweather
Sure, the calendar tells you March 20 is the first day of spring, and Thursday's bright skies and 60-degree temperatures may easily lull you into believing winter is finally over. But much like your bracket by the end of this week, the unseasonably warm weather is about to go bust.
By which we mean the very real possibility of an inch or two of snow, thanks to a potential nor'easter. The tristate area could get some "significant snow" Sunday into Monday, says the National Weather Service, which will then probably turn into miserable cold rain. This wet weather is brought to you by the storms that are about to pummel parts of the South — including Texas and Louisiana — that are still trying to recover from record rainfall and severe flooding. 
The slow descent back into gross March weather begins Thursday night, when thunderstorms will dump rain (and possibly hail) on the city and its drunk St. Patrick's Day stragglers. Friday should still see highs in the 50s, but the weekend will be much cooler and windier. The high on Sunday, that first day of spring, will probably not even reach 40 degrees.
Snow should start falling Sunday into Monday. Meteorologists are still a bit uncertain about how this snowstorm will track along the East Coast, making it hard to predict snowfall totals just yet — but likely somewhere between one and three inches. But the possibility still exists for a serious snowstorm, so, you know, enjoy springtime in New York!