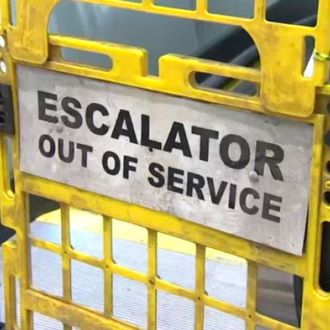 Two of the five long escalators at the Hudson Yards station have been out of service since last month.
Photo: NBC
The $2.45 billion Hudson Yards subway station opened just this past September, but it's already leaking like crazy, owing to what NBC New York recently called a "flaw in construction." After photos of wet floors, out-of-service escalators, and indoor winter icicles made the rounds in the past couple of weeks, the MTA said a contractor would pay $3 million to repair things. "We find the situation as it stands completely unacceptable," MTA spokesperson Kevin Ortiz told CBS 2 at the time. "It's something we want addressed immediately." Now details have emerged about what's gone wrong and how it'll be fixed.
In an MTA committee meeting Monday, the transit authority's capital construction president, Michael Horodniceanu, said that Yonkers Contracting, which the MTA hired in 2010 for waterproofing, excavating, and mining work at the station, had failed to fix recurring problems with leaks. The contractor, according to Horodniceanu, had tried to fix the waterproofing issues after the MTA first became aware of them in 2012 — before the station opened — but while each time the leaks would appear to be fixed, the repairs would prove only temporary. DNAinfo reports that a Yonkers Contracting spokesperson says the work at the station had been performed by a subcontractor.
Jonathan Ballan, an MTA board member, called yesterday for an internal investigation into how the leaks were allowed to happen, and criticized the "trial and error" manner in which the authority tried to seal the station.
How big a problem had the leaks become? From the New York Post last week:
Riders at the station can look up and see brown mold and drops seeping out of the ceiling, including right over the escalators.

The bathrooms are closed until further notice, and two of the five escalators have been out of commission since last month. The working escalators are often covered with water and slippery.
To fix the issue, the MTA made Yonkers Contracting hire a firm that specializes in waterproofing to fix the leaks. Horodniceanu calls the company, Sovereign Hydroseal, a "specialty leak-remediation contractor." (It's the same firm the MTA hired to repair the new South Ferry station, which was heavily damaged during Hurricane Sandy.) Work began last week, and Yonkers Contracting will be footing the bill. Yonkers Contracting will also clean and replace tiles that were affected by the leaks.
At yesterday's MTA meeting, some board members said they'd only learned of the issues through recent news reports. Horodniceanu said that the station was safe, but one board member, Allen Cappelli, said the problems at the station were "harmful to the people who utilize this station and the reputation of this agency." Added Cappelli: "The agency looks foolish as a result of this endeavor.'
Ortiz, the MTA spokesperson, says repairs will take up to three months.