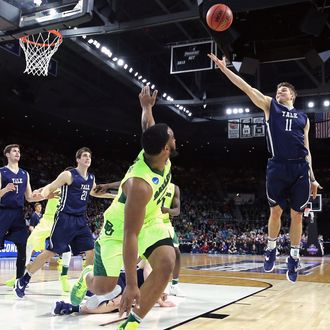 Yale's Makai Mason scored 31 points in the win.
Photo: Jim Rogash/Getty Images
Yale pulled off the first big upset of this year's NCAA Tournament Thursday afternoon, beating Baylor 79–75. With expelled captain Jack Montague in attendance, the 12th-seeded Bulldogs won the first NCAA Tournament game in school history in their first appearance since 1962.
Montague was expelled last month in connection with a sexual misconduct case. His lawyer said in a statement earlier this week that the school's decision was "wrong, unfairly determined, arbitrary and excessive by any rational measure."
The school initially didn't reveal the reason Montague was expelled, but after the team publicly supported its former captain, rumors swirled when posters on campus said that the team was "supporting a rapist." Both the New York Times and the Yale Daily News later reported that Montague was suspended for sexual misconduct.
In his statement, Montague's lawyer said the expulsion followed a complaint by a female student to a Title IX investigator, who then filed a formal complaint with Yale's University-Wide Committee on Sexual Misconduct. Montague's lawyer says that before the encounter in question, his client and the woman had previously had consensual sex. But she says the encounter in question was not consensual; Montague says that it was. According to the statement, Montague was expelled after the committee determined last month that he was culpable in the female student's charges. The woman has not spoken publicly.
One of Montague's teammates had said the former captain had planned to attend today's game, and indeed, he was spotted in the stands. ESPN reports that he left his seat during the second half of the game.
Yale today was led by sophomore guard Makai Mason, who scored a school tournament record 31 points. Down by two, Baylor had a chance to tie or even win in the closing seconds, but a Lester Medford turnover gave the ball back to the Bulldogs, and Brandon Sherrod sealed the win with two free throws.
Yale will play Duke on Saturday, with the winner advancing to the Sweet 16.